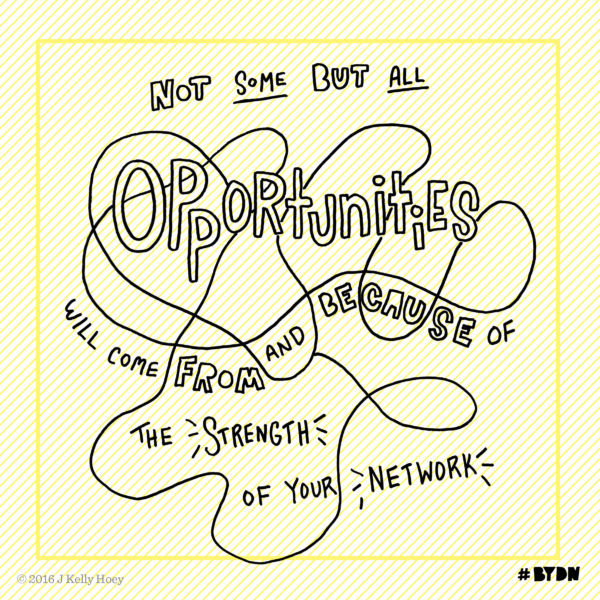 Ah. This week's Build Your Dream musing starts with a text from a friend thanking me for recommending that she get her profile up on a media source website (quick pause in the story, my recommendation could more accurately be described as fierce prodding, persistent cajoling and intense nagging). When this pal finally got off her procrastinating butt and submitted her credentials to the site, the result I anticipated happened: she – along with her organization – has been flooded with opportunities to speak with a wide array of media outlets. NPR! BBC! Politico! Essence! MTV! YESSSSS! IMHO, the perfect connection. This friend has expert insights that a particular community (journalists) needs right here and right now. This friend is the founder of a not-for-profit: she needs more opportunities for word-of-mouth networking (aka free marketing). Yes, the media remains the best word-of-mouth network.

THIS is about putting yourself in front of opportunity folks and creating networking magic (also known as serendipity). Serendipity is not elusive, it just needs you to hit the ignition.

So ditch the notion of a serendipitous encounter with the networking-need of your dreams in the line-up for Starbucks. Serendipity in the digital age is being prepared to be found – and taking steps to position your ideas to be found! And that my friends, is ENTIRELY within your control. I said it – YOUR control.

So what's holding you back? Ego? Fear? Procrastination? Netflix, re-organizing your sock drawer? Examine your reluctance. Give some thought to your ambitions. Then get on with it.

Let me know what happens.

You (like my friend) may just thank me for pushing you to step into action and frankly, I'd welcome that text or email. Really stuck? Reach out, I'd like to (really) understand why and assist in helping you get unstuck.

Before you ask…the media website referred to above is WMC SheSource, an online database of media-experienced women experts who WMC connects to journalists, bookers and producers. Got expertise? Then get it on SheSource. The friend, is the formidable Kat Calvin, founder of Spread The Vote. Yeah, I've got to brag on nagging Kat, as what she is doing is so phenomenal and she is so deserving of every recognition, accolade and interview.
This post originally appeared in BUILD YOUR DREAM (my weekly newsletter). Don't miss my next musing by signing up to get BUILD YOUR DREAM in your inbox.
[mc4wp_form id="6665″]