What does a former attorney know about networking? Quite a lot it appears – and it's not the outdated "slap-on-a-nametag and get-working-the-room" guidance or the equally cringeworthy "tag-someone-you-want-to-meet-on-LinkedIn" networking advice.
In Build Your Dream Network, J. Kelly Hoey offers a fresh approach to mastering this essential but timeworn skill in a world where everyone is frantically posting, liking, and friending, signing-up, reaching-out, yet too many people are failing to successfully make the lasting, genuine connections their careers need.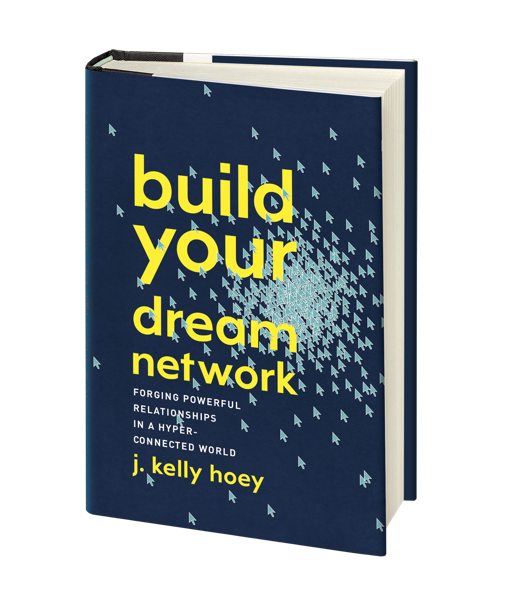 Whether you're networking online or IRL (or better yet, using a combination of both to build connections), Build Your Dream Network is filled practical, actionable ideas and case studies to motivate you to approach networking in new way.
Can one book entirely change how you approach networking? Business Insider exclaimed that Build Your Dream Network "completely changed the way I think about networking" and Real Simple says it's one of the most inspiring books for new graduates. Vogue.com sums of Kelly's networking ethos:
Paving your way to a new 9–5 takes time, patience, and more than a few nonfat lattes—it requires making real connections.
Bypass the coffee date circuit and schmooze routine. Kelly's aim is to open your eyes to the myriad of other opportunities you have before you to build better networking relationships – and in the process, rebrand this critical life skill.
Time to start networking in a new way.
Get your copy of Build Your Dream Network and say good-bye to those old networking fears.
To celebrate 5 years of timeless networking advice, Kelly has released a 70-page mini-book, filled with updates, new insights and networking-during-the-pandemic success stories. Download the #BYDN Book Bonus (it's free!).

Contact
Looking to advance your career or grow your business or have some other burning network building question that you can't find the answer to? Email Kelly: admin @ jkellyhoey.co