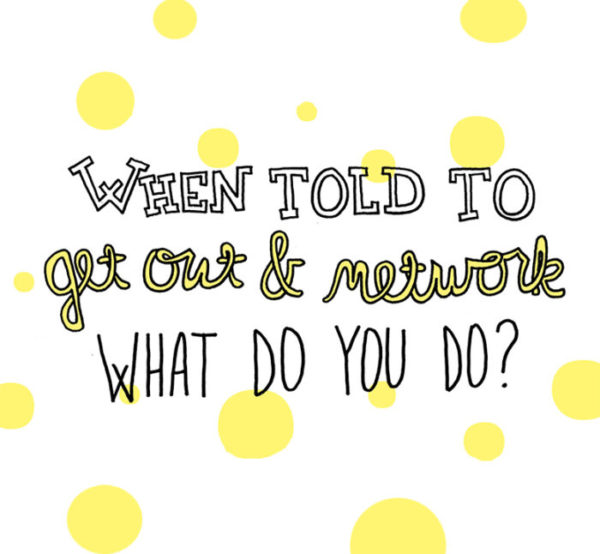 As it is Valentine's Day…so the big question is…how are you showing your network AND your reputation some TLC? Based on a few encounters recently with startups, students, PR types pitching on behalf of their clients, and employees of emerging companies who are tasked with drumming up business development, too many of you out there are racing around like the proverbial chicken with your head cut off…
Not a good way to look after yourself (your career, your reputation).
Not a good way to build a vibrant, responsive web of relationships.
And ultimately, a rather unproductive way to achieve results (whether that is climbing the corporate ladder, feeding the sales funnel with new prospects or securing an investor).
Being busy "networking" is not the same as building a network. Case in point: the employee of an early-stage company tasked with new business development was sending out endless volumes of emails of the "to whom it may concern" variety in an attempt to get new clients. Stress on "attempt" — and stressfully, and wasteful use of time.
A more productive (and loving and network building) way to approach new business development:
Turn off your computer and put down your mobile phone.
Pick up a stack of sticky notes and a sharpie.
Find a blank space — a wall or desk — that you can start to fill up with notes.
Write down on a note the type of client you're seeking to do business with (corporation, government, not-for-profits, educational institutions, boards, agencies etc.).
Write a detailed description of the dream client (i.e. schools is too vague…middle schools with a vibrant creative arts and drama program is better).
Write down the names of actual dream clients (if you already have some in mind).
Write down the types of companies who also do business with those dream clients.
Write down the types of people who may work with or be employed by that dream client.
Start having AHA! moments and madly scribble down your ideas (names of people, be it colleagues or former classmates who you imagine can help you).
Resist the urge to rush to your computer to send out an email.
No, really, step away from the keyboard and back to your sticky notes and sharpie.
Return to brainstorming.
To help refocus on the task at hand, look around the space you're working in. Is it a co-working space? Incubator? Office? Could there possibly be someone in proximity to you that you could ask….something along the lines of…"I'm planning to make some new business outreach this week and right now I'm brainstorming prospects. Can I bounce some ideas off of you? The type of client I'm seeking is…and how I'm going about finding warm introductions is…"
If no one is in your immediate proximity, think about who you could speak with (program manager or office manager at the co-working space, by way of example) to ask ('hey, can you think of anyone in the current accelerator program who works at or went to school at or sells into….').
Grab your sticky notes, and yes, log-in (FINALLY) to your computer. Do not go anywhere near your email! You're not done brainstorming yet.
For your dream clients, do the following: set a Google Alert, follow them on Twitter, Instagram and Pinterest, "Like" their FB page and most importantly, follow them on LinkedIn.
If you do not have a Twitter account, set one up.
If you have a half-assed incomplete LinkedIn profile that is missing a headshot and a whole lot of your career history, spend some time fixing it. Immediately.
Check your privacy settings on Facebook. What you've been sharing with your friends or family may not be the information you want to share with new business prospects.
Realize there is a lot of information at your finger-tips that could improve the quality of your outreach beyond simply locating a "sales@" email address on the dream client's website. Vow to be a more committed, thoughtful partner to your connections.
Start doing the real, meaningful stuff that needs to be done before you connect with someone. Read the stories Google Alerts feeds to you. Check out what is being posted (and the comments) on the dream client's Facebook page. Discover relevant #hashtags about or used by your dream client — and see what is being said.
Get creative now that you have this information. HOW does your product, service, solution, expertise (whatever it is you're seeking to get in the dream client's face) solve a REAL problem for them (not the one you thought of, but the one you've learned they really have). Get in the dream client's shoes. Scribble down your ideas. And have some empathy. Say you discover the object of your sales pitch affections is in the midst of a hostile takeover bid or government audit? Could be a signal to hold off on "the ask" or switch your focus to another dream client — as your outreach could get lost in the daily drama.
Jump over to LinkedIn again and check out the dream client's company page. Any chance you have a 1st, 2nd or 3rd degree connection to the dream client….there is nothing better than a warm introduction, dig around to see if you have one or two.
Remind yourself (again) to connect with more people you know or have met on LinkedIn.
Review the profiles of people who can make connections. When's the last time you spoke to them? How have you been a dedicated member of their network? In other words, think of why they would want to put their time and reputation on the line for you? Can you really solve that problem their company is grappling with? Or are you the type of person who has been there for others — making them want to be there for you? Showing your network some TLC is falling into one of these two categories before you fire off that "hey hey hey" email.
I'm stopping here in this list of 25 suggestions — as there is a lot more you can do but hopefully, from reviewing this, you're in the Build Your Dream Network flow and popping with considerate ideas on how to reach out. Some of you may be thinking "damn, that is a lot of work, Hoey!" — to which I respond, "so is running around achieving nothing and hoping for something".
Some of you reading this may have an example of landing a dream client as a result of a cold call or randomly fired off email. Like love at first happen that happens to some of us…but for most us, networking and romance doesn't generally work that way.
More time planning is not wasted networking time, it is a better way to build your network and achieve your dream.