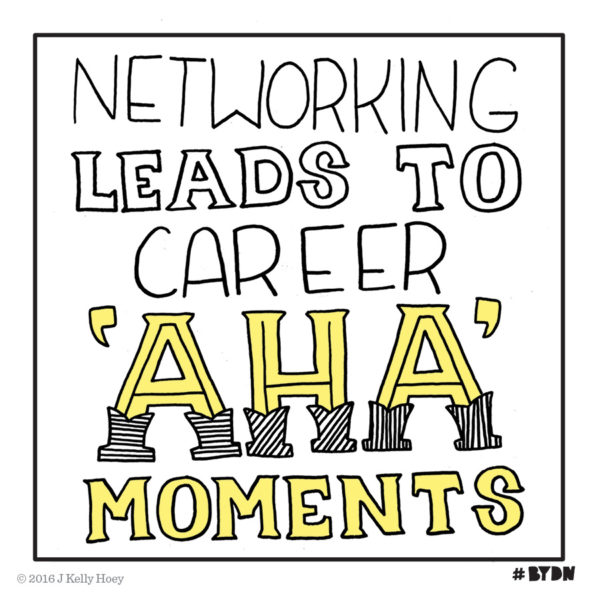 Still thrills me when I hear how someone has put #BYDN into action and transformed their business or career. THIS is verbatim from a live studio audience participant for my CreativeLive class:
Thank you so much for your June 6 CreativeLive class "Build Your Network and a Dream Career." It's already making a world of difference for my business.
As you shared in class, and in your book, it's so important to build both broad and deep networks. I'd done this intuitively as an employee, and even in the early years of my business.
The one thing I hadn't fully moved into, which your class helped me see, is realizing just how different my new (and somewhat hard to classify) body of work is from most of the deep/niche networks I'd developed through the years. Between your personal story, and the interview with Jessica Peltz-Zatulove, it really hit home that I needed to build a new deep network.
Your philosophy of how networking is 360, and network building is 24/7, is super helpful too. It was just what I needed to (finally) rewrite my LinkedIn profile bio. That was the last bastion of my old professional identity as a marketing strategist and (conventional) executive coach. (Because LinkedIn = largely professional & buttoned up, right?)
Since your class, I've attended 3 live events related to the philanthropic and nonprofit sector, which are more aligned with my current work in peaceful leadership and spiritual storytelling. It's a(nother) leap into the networking unknown, and one I couldn't have envisioned without your help!
Ready to stop waiting to transform your business?
Sign up for my CreativeLive class.
You can find a list of retailers for #BYDN here on the Penguin Random House website. Yes, it's available on Amazon at Barnes & Noble, in Public Libraries, local booksellers plus in ebook and audio book formats.
And Jessica's #BYDN interview can be found at page 59 of #BYDN.