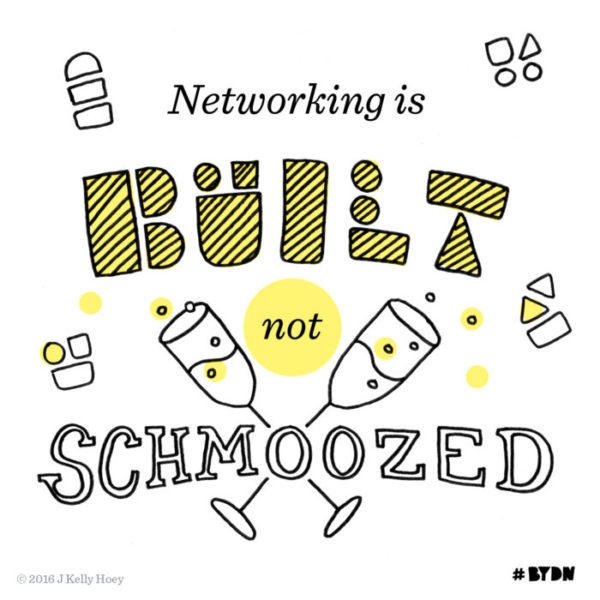 As the author of a book on the subject of networking, I read Adam Grant's recent New York Times editorial "Good News for Young Strivers: Networking Is Overrated" with more than a little interest. Yes, it raised my eyebrows. My initial reaction? The editorial confuses pitching a product or service (and the generic advice dished out on how to seek guidance from strangers) with what networking REALLY is. My second reaction (more eyebrow raising) is it once again elevates the fairytale that for any one of us, simply working hard will result in success.
I don't disagree with his premise that without a solid product or experience, any introduction or outreach or referral regardless of how hot or cold or connected, is going to fall flat.
And I acknowledge (with more than a little annoyance and frustration) that the startup world is filled with formulaic advice from how to pitch investors to how to deliver an elevator pitch, with the end result being that practically all startups are generically sold as "disruptive" "innovative" and "X for this" (where X = the unicorn startup of the moment) and the outreach lumps investors together like ATM machines: generally interchangeable and offering only one thing — cash. I consider such generic "networking" advice both lazy and dangerous. It is also ineffective in producing Spanx-like results.
Some times we need to take a bold step with our career — the equivalent of a Hail Mary pass in a football game — to land a coveted internship or to get a product into the hands of a super influencer. It may appear from the outsider looking in to be a "cold" outreach, disconnected from a networking. But it's not. Networking is the sum total of everything we do. It is not the isolated schmoozing work-the-room-because-I-have-something-to-sell activity that is universally reviled. Networking is definitely not the activity to undertake in the moment of need or desperation ("I need a job" "I need Oprah to endorse my product" "I need a VC to fund me"). Those who are striving for success understand this. They continually build relationships, help others and connect in meaningful ways. The mentor. They seek advice. They follow-up. They offer help to others. They volunteer. They understand that to get ahead they need the help of other people — and to get that help you must both have something to offer and a track record of building relationships.
What strivers do is build their community, day in and day out, one relationship at a time. It's not as sexy as the story of a single pitch to Oprah. It's more akin to sit-ups: it's an ongoing, relentless commitment to your career and to the success of others. But community (or a network or human capital) is everything.The more you network aka build relationships, the more likely it is that success will find you. Ambition without a network is a continual strive. As I point out in "Build Your Dream Network" we all must invest heavily in relationships so we have people who can and will use their resources (including money, reputation, and experience) to:
Spread word of mouth
Make recommendations and open doors
Send work your way
Offer a job or internship
Make introductions
Vouch for credentials
Cheer on or provide moral support
Write a check
Ignite a campaign
Start a grassroots effort
Close a funding gap
Create opportunities
And reboot efforts
Yes, building community takes time. It takes time to establish rapport. Reputation grows it doesn't simply arrive once, full baked, in an email or job application. Your achievements only speak for part of who you are as a person: how you treat other people, and show up, day-in and day-out, equally matters (if not more). Achievements alone are a poor judge of character and a narrow measure of success.
No, networking is not over-rated. Rather, networking as relationship building is highly undervalued. We need to do it more often, but with purpose, intention and deep consideration for the people we are connecting with. As underlies Adam Grant's editorial, we need to celebrate (again) hard work over the imaginary "have a startup idea, get investment, exit in two years". But we can't dismiss the activity of networking. Dispel the notion that "if so and so would just endorse my product or hire me, I will be a success". Immediately discard the notion that networking is dirty. It you are striving to succeed you must equal strive to build a solid network.
Discover more #BYDN insights at buildyourdreamnetwork.com. If you haven't read it yet….pick-up a copy of #BYDN on Amazon or Barnes & Noble or Books A Million or Hudson Booksellers or Indie Bound orPowell's or Target or Walmart or or any number of independent booksellers or borrow it from your local public library (and if you reallyneed to kickstart your networking by picking up a ton of copies of #BYDN, order in bulk from 800CEORead).
This post originally appeared in BUILD YOUR DREAM (my weekly newsletter). Don't miss my next musing by signing up to get BUILD YOUR DREAM in your inbox.
[mc4wp_form id="6665″]