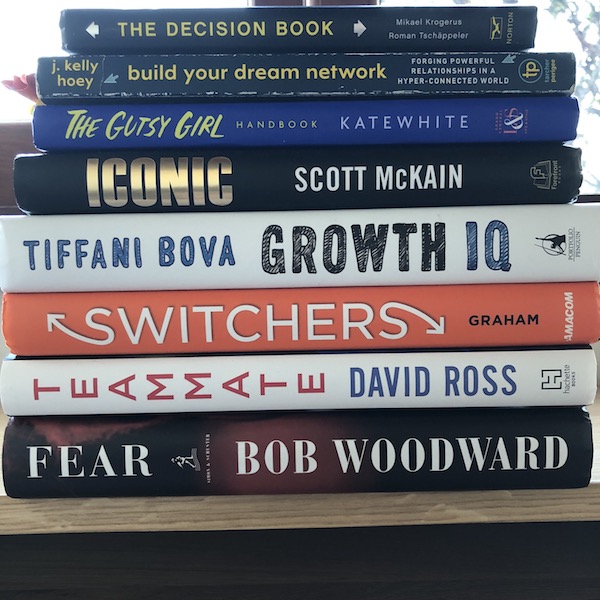 Sunday, January 6 is Cuddle Up Day. No lie. So while you could cuddle up with Netflix or Candy Crush, may I suggest you curl up with a good book instead? There are cognitive, physical and emotional benefits associated with reading:
Relieves Stress & Lowers Blood Pressure: Just 6 minutes of reading has been shown to lower heart rate and muscle tension.
Lengthens Life: One study shows that those who read as little as 30 minutes a day live on average 2 years longer than non-readers.
Who doesn't want to live a longer, less stressful life?
So to relieve your stress, lengthen your life and make you happier, a few book suggestions from my holiday reading list:
Iconic by Scott McKain. If you want to take your business (or frankly, yourself to the next level – beyond simply attaining success in 2019, read Iconic.
The Gutsy Girl Handbook by Kate White. Learn Kate's 4 B's plus how to be a baller – your career will thank you.
Growth IQ by Tiffani Bova. Essential reading for any company selling a goods or services. E.S.S.E.N.T.I.A.L.
Switchers by Dr Dawn Graham. Looking to reconfigure, re-work, reimagine you career this year? Read this before you do something stupid.
Teammate by David Ross and Don Yaeger. As the authors say "you don't need to be most valuable to be valuable." Superstar or not, being a better teammate is an essential work and life skill.
And yes, my book, Build Your Dream Network 'cause in a topsy-turvy uncertain world, building strong relationships and networks matters more than ever before.