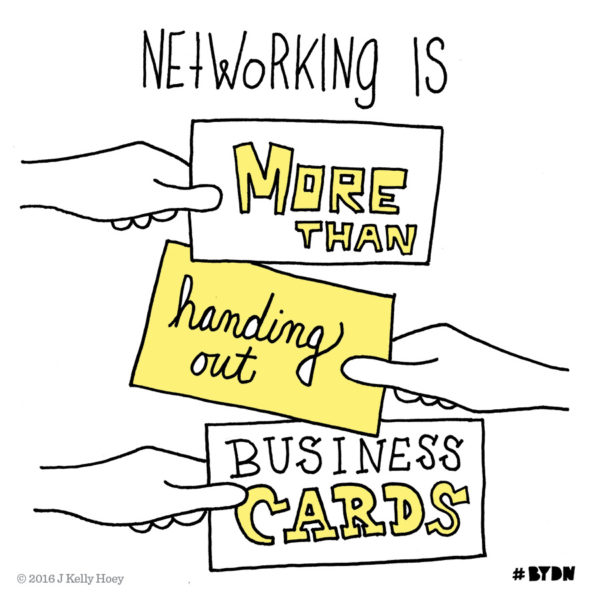 Surround yourself with people who give one another equal value and are inspired to do something together. – Tina Roth Eisenberg, Founder at Tattly, CreativeMornings, TeuxDeux and Friends Work Here
In the spirit of Giving Tuesday, some of the best advice on the essential "give" in networking – from some of the best networkers I know (yes, folks I interviewed in Build Your Dream Network including Tina Roth Eisenberg aka @swissmiss quoted above) – 'cause to get where you're going in life, you need a responsive network and you create that responsive (dream) network by becoming a "give, give, get" person.

Who are "give, give, get" people?

As I share in Build Your Dream Network, "give, give, get" people are the people in your network who:
Use their networks to solve someone else's problem
Anticipate needs and ask, "What can I do to help you?"
Follow up on the introduction, tip, or lead
Keep tabs on what is important to you—even if it's simply a like or favorite or share on a social networking site
Follow through (or tell you why the timing won't work for them)
Get you an answer (even if the answer is not the one you were hoping for)
As for some of best giving advice I got….read on (and if you need more…I know of a good network building guide book filled with amazing insights):

We're all human, which means we're all more or less self-focused and constantly thinking about our own immediate needs. To be successful these days, you need to not only think about what you're interested in doing (or achieving); you need to think with and—as in "and what is the person I'm interested in meeting with interested in?" When a connection benefits both, it is more valuable for both. – Evan Nisselson, General Partner at LDV Capital
Give before you get. The smartest people I know start building relationships before they "need" them. And they do so with a clear, kind heart. Offer up help before you need or even expect a thing. Help someone you are qualified to help and find fulfillment in that. – Erin Newkirk, CMO at Local Crate

[At Events] Help people know who's who. Simply being able to remember a new name creates stronger connections, as studies show that we're less likely to talk to an acquaintance if we can't remember his or her name! Don't let that get in the way of your guests: give them help with names and faces. It can be as polished as a guest directory, or I've seen nametags and buttons with each person's connection to the host, event, or couple, and even a Google Doc with a list of guests and links to their Twitter profiles. – Rachel Hofstetter, CMO at Chatbooks
The strength of your personal network is one of the biggest deciding factors for success of crowdfunding campaigns (especially service-based ones). People are investing, donating, and pledging because they believe in you, and in return you have to give them a reason to believe. Over 30 percent of our backers came from the digitalundivided team's personal network. We tapped every network we have or have been part of: alumni associations, clubs and sports teams, friends, family, and, yes, even ex-boyfriends. It is important to open up and ask for help. I discovered that people do want to help, but you have to give them the opportunity (and ways) to help. Keep in mind that most of the world is pretty busy and won't know you need help unless you ask for it. – Kathryn Finney, Managing Director at digitalundivided
This post originally appeared in BUILD YOUR DREAM (my weekly newsletter). Don't miss my next musing by signing up to get BUILD YOUR DREAM in your inbox.