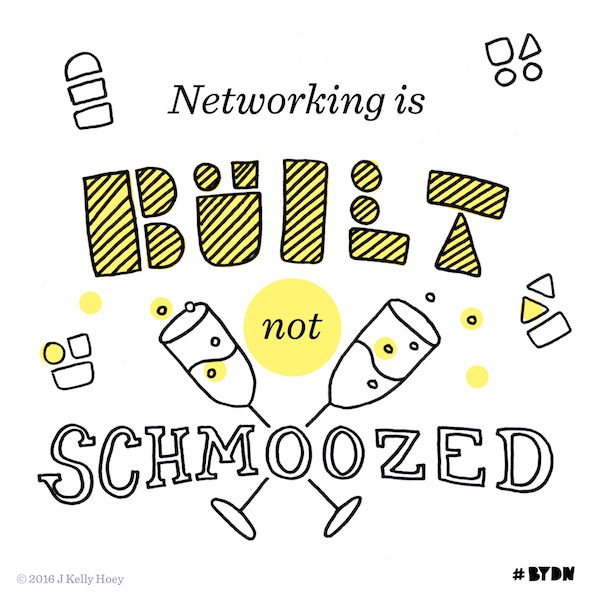 There is no one and done when it comes to making ongoing, valuable connections for business.

Let's just start with the bottomline to the question I'm all too frequently asked – (should I bother attending again, when nothing came out of it?) – typically by someone who has simply shown up once at an industry or association or chamber event. Once. Once, likely ill-prepared and once, almost assuredly, with reluctance. In any event, since magical business introductions and outcomes were not instantly forthcoming from the person's sole appearance, they wonder if they should bother ever going back to the industry/association/chamber event.

Introductions that produce [fill in the blank with your desired business or career outcome here] do not typically spring forth between the newly acquainted after a single handshake and exchange of business cards. It takes that damn "T" word folks – t r u s t. Trust grows from consistency – and making contributions. Trust is nurtured by time. Trust is built from showing up, repeatedly. Sometimes you get a leg-up the trust meter – that coveted "warm" introduction – typically from someone who has shown-up, spent the time, contributed significantly…you know, the reliable "trusted" type.
Building trust is something you can do too, if you're willing and committed.

This is a flip to page 26 of Build Your Dream Network roadmap too. There you'll find the purposeful networking expert insights of Jennifer Johnson Scalzi – who built a powerful network from the ground up in New York City. No, she didn't know a soul (other than the person who hired her) when she picked up and moved to the Big Apple. And did I mention, Jennifer needed a network because she had been hired to build out a new line of business? Rolling up her sleeves and getting deeply involved in an industry association was just one key to unlocking business relationships for her.

A few networking gems from Jennifer's interview:

Accept every networking invitation for a period of time (say, 3 to 6 months) – so you can assess what's truly valuable networking and where you should make a greater networking commitment.
Volunteer for the "thankless" task. As Jennifer notes, handing out nametags at an event is a great way to meet EVERYONE.
Show-up with enthusiasm. Your attitude is yours to control. And besides, who wants to make small talk with a grump?
Jennifer is also a recent guest interview on The Business Builders Show, so listen up! to get more of her networking and business building insights.