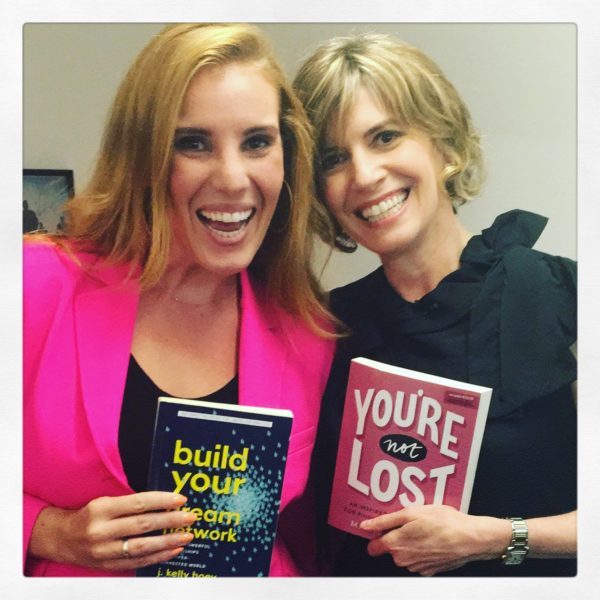 My recent interview with fellow author, Maxie McCoy seems like the right place to begin the newsletter/blog writing process (again). One of the pearls Maxie dropped from her book You're Not Lost was "the path unfolds when you begin".
I didn't know where to "begin" my newsletter again after a hiatus that began in late 2018.
Truth be told, I've needed a break. No, not from you the reader, not from the discipline of writing, rather a break to clear the noise and mind chatter, to reflect on two years of my go-go-go book journey – so I can purposefully, stride into the next phase of Build Your Dream Network.
Oh, yes, Build Your Dream Network still has a lot of life in it (new interactive keynote sessions! new talks! online book club! new visuals!) – so much life! So don't ask if there is another book coming (yet).
But, back to Maxie.
ICYMI last year, I became the guest host of the Business Builders Show podcast at the invitation of host and creator of the popular podcast, Marty Wolff. The podcast is for entrepreneurs, business owners and leaders – that is, pretty much all of us. Growing the Business Builders Show with Marty and expanding the dialog around business is focus this year.
My interview with Maxie has just posted (find it here) – and yes, there are more than just a few good reasons to listen up! to the full 25 minute conversation:
@ 2:03 Maxie dives into her wild non-linear career path from sports broadcasting to women's leadership
@ 4:00 Maxie shares why "follow your passion" can be B.S.
@ 5:09 Maxie details her seven year journey to transform her career (yes, SEVEN years). The journey started when she signed up for a writing class.
@ 6:57 We dive into the challenge of keeping New Year's resolutions (doh! who remembers the ones they made) and Maxie walks us through her four question end of month reflections.
@ 10:30 Maxie rails on the absurdity of "X under X age lists" and what those lists mean to Millennials.
@ 14:12 Maxie shares why she's a fan of micro-actions. Yes, ask yourself today "what's the absolute smallest thing I can do to move my big dream forward?".
@ 18:08 Better together! We discuss why Maxie's generation sees opportunity differently.
@ 22:27 Maxie drops a little guidance for companies on how to work with Millennial women.
@ 23:38 Maxie gives a hint of her 7-Day side hustle tips from the Shine app (psss, side-hustles are great career experiments – so think about pursuing your own).
So, as I gear up to share thoughts in my BUILD YOUR DREAM newsletter, you may want to read it first there, in your inbox. You won't regret it and your network (and career) will thank you:
[mc4wp_form id="6665″]