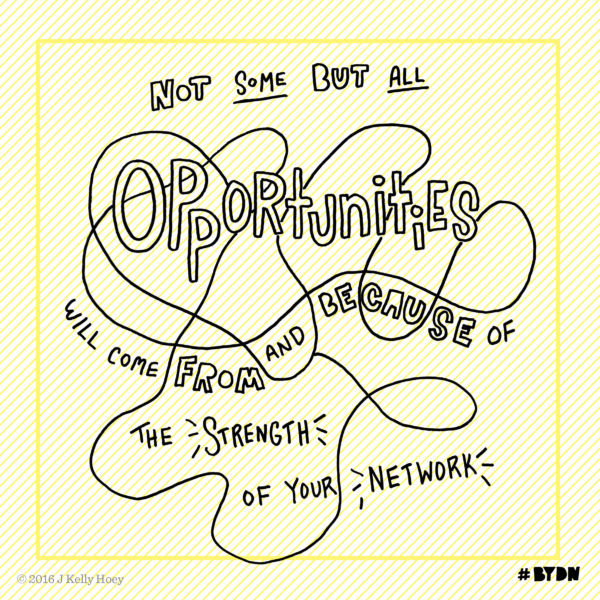 The loss of IRL interactions – from wandering into a coffee shop or heading into the co-working space or attending a conference – is the loss at chance interactions. The serendipity of making an unexpected solid new connection. I can recall a few of these as I type this post (and no, none arose as a result of using a conference networking app).
There was the first time I met Dr. Sue Black, O.B.E. – we both had responded to a tweet from William Hurley aka whurley to gather pre-hackathon to form a team and brainstorm ideas. Sue is now one of my dearest friends.
Then there was a U.N. conference when I was waiting to chat with someone who wanted to meet me (yes, connected through one of those conference apps and no, I have absolutely no recollection of who it was). Instead, I met social entrepreneur, Paul Polizzotto, then founder and president of CBS EcoMedia. Later, I had the chance to invite Paul to speak at an entrepreneurial event I organized for female founders.
These moments are invaluable, so how do we recreate them in this digital moment? Can we create networking serendipity with the tools we have at hand?
Short answer is yes.
For me networking serendipity has been about putting your career in front of opportunities. It is being active in selecting where to be, and how to talk about it. It's choosing to engage (whether that is in the moment or transferring information along).
Passive participation allows you to tick the box and earn credits for attending. Sometimes that's all you have the energy for but it's unlikely to result in the networking serendipity I'm talking about.
Social platforms and digital tools can be as serendipitous as the conference. To re-create some of the chance IRL interactions I'm thinking of (and suspect you're missing) here's a list of three suggestions to get you started:
Craft your digital communications with an "in the room" mindset. Assume you are standing in the room, next to the people you want to talk to – because that is what is happening! For example, at the end of an online live-streaming fitness class, pop in the chat to thank the instructor (as I'm guessing that you would do that in-person).
Say hello and good-bye when you join an online conversation (whether this is on Twitter or a Zoom video conference). Post a status update on Facebook that signals to your friends when you're going to back or alternatively, showing up to hang out.
Introduce yourself! When you're invited to ask questions during an online presentation (whether via the chat feature or the moderator un-muting your microphone), use this #BYDN formula: (1) say who you are, (2) what you do and where you are from, then (3) ask your question. Why do I push continuously stress this? It provides you with an opportunity to network with everyone on the call or participating video conference – just as it would if you stepped up to the mic to ask a question to a speaker at an IRL event.
I recently lead a FieldTrip presentation for CreativeMornings. My one request from the several hundred online attendees participating was: say hello, and where you are from when you join the call then share your name, what you do before you ask a question. The result? Immediate engagement and enthusiasm when attendees realized they were not alone in front of computer screen. During Q&A when an attendee asked me about how to go about making new connections in a new city (seemingly a massive challenge during coronavirus) – my answer become almost unnecessary as she had shared her location (San Diego) when she asked the question. Other San Diego based attendees immediately leapt in to connect and make recommendations on places to network in that city.
Other thoughts on ways to create networking serendipity digitally (and these are likely actions you're already taking, but may not have been viewing them through this particular networking serendipity filter):
Comment on other people's FB, Instagram or LinkedIn posts.
Amplify someone else's content with a RT or share.
List the online events you're attending in your LinkedIn summary box – and update the list weekly. This is a strategy I followed when I was attending IRL events and led to numerous "I'm attending that too" or "Tell me more about…" inMails from within my network.
Leave a comment or ask a question when you watch a video on YouTube – 'cause you never know, the content creator may just respond.
Add some links to your email signature line (as someone could just click through to find more reasons to want to talk with you).
Need more? I've written a few posts before on this topic: