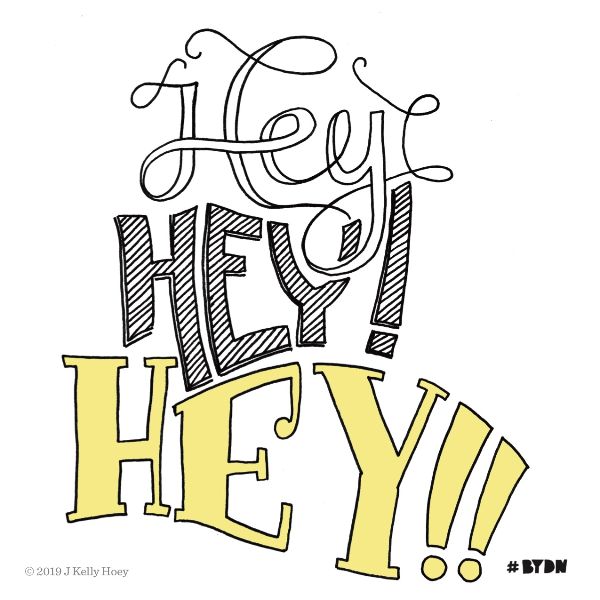 Why yes, I love it when I get feedback, reactions and input on my weekly newsletter / blogs.
Last week's post (Let's Talk About The 'Hey, My Long Lost Friend' Networkers) ignited a wave of responses, and I'm posting a couple of the best here. As a reminder, last week's post shared a doozy of a "hey hey hey" can you or could you or I need or do you know emails I receive from people who I haven't heard from in a very looong time (and frequently don't hear back from when I send a polite, but curt "I can't help you but look at these resources" responses).
#BYDN newsletter reader DO YOUR HOMEWORK reaction:
Yes! Yes! Yes! I get messages like the one you posted, on the regular.
I want to scream "do your homework". Folks on the receiving end don't want to have to start guessing at the role or company you're interested in. I am not your personal life coach to help you decide what your next career step is (I save that for my own kids). But I am very open to helping you if you've already done your homework. Ask for an introduction with a specific person, at a specific company or for a particular role, and give me a reason why your skills/experience are a good fit so I can draft an introduction. Then I can decide if it's within my social capital to make that ask, or if the timing is even right with the person you want to connect with.
I work in HR so they tend to relate to someone looking for a new role, or asking me to help their friend/child/colleague/neighbour find a new role. It becomes really cumbersome when candidates don't know where they want to work or have no focused job they are targeting – these are the majority of the asks I get.
#BYDN newsletter reader DON'T SPAM ME BECAUSE WE CONNECTED ON LINKEDIN reaction:
My worst is the daily spam on LinkedIn… this one just this morning:
Hi D,
Thanks for the LinkedIn connection. I'm glad to be connected with you on LinkedIn.
On to a Quick note, we are a Custom Software Development, Mobile Apps (Android, iOS), CRM-ERP, E-Commerce and Portal development firm. Our services are recognized as one of the finest destinations to deliver and deploy the solution that helps businesses to gain maximum benefits.
– Process Automation (CRM, ERP, HRMS, LMS)
– Mobility Solution (Android & IOS)
– E-commerce & Logical Web Portal Development
– Business Intelligence & Cloud Solutions
– IoT, AI, AR, VR, Beacon
– Virtual Employment & Technical Recruitment
Our services at a glance: –
If this sounds valuable to your company, kindly let me know if you're free for a quick discussion.
Best Regards,
JT
I hate this because – it has no context or relevance to me or my business. Here's how I would redesigned this ask (as you challenged readers in your post):

Hi D,
I noticed you coach women entrepreneurs and have an online course. We have found that adding a mobile app to your course can increase engagement by 50%, and engaged clients are more likely to stay connected and make repeat purchases of your services. Would you like to learn more? If you are not interested personally, perhaps some of your clients would be. I'd be happy to jump on a zoom call with your cohort to share more about how to use apps to grow your business.
Best,
JT