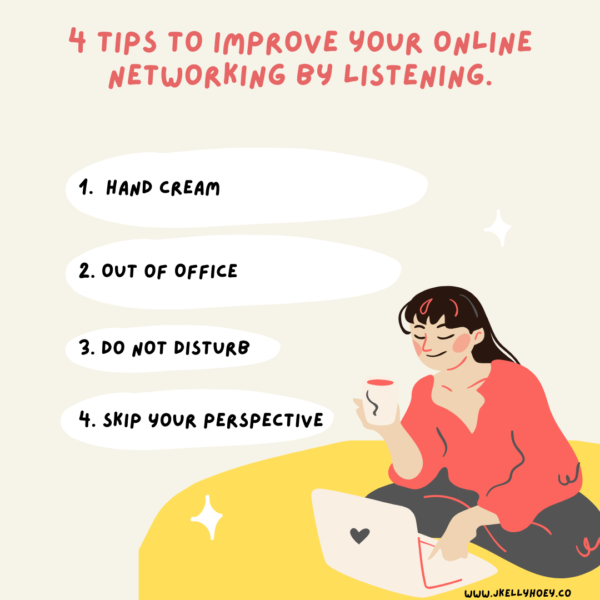 I'm frequently asked questions about what to say when networking (such as "what's a good way to start talking with somebody I don't know?", or "what's a good ice-breaker?" or "how can chat with someone offline who I've connected with online?"). You may have wondered about this yourself from time to time.
My all too frequent one-word response to such questions is this: Listen.
Yes, listen.
Often, we're far too busy in our heads worrying about what to say that we forget — no, we flat out fail — to listen.
Listening IMHO is a networking super-power.
Listening creates connection. It leads to discovery, revealing the other person's needs, desires, quirks, quarks and challenges.
Listening, above all, is an attitude. If you are/not interested in the person your body language will show it.

Tom Peters, from his blog "The Strategic Importance of Listening"
While he has a lot to say and knowledge to impart – best-selling author Tom Peters values listening above all (he even writes the word LISTEN on his hand to remind himself).
To help you hone your listening skills (+ attitude, thanks Tom), here are 4 tips to try out on your next Zoom call, meeting or webinar:
1. Hand cream. Yup. Hand cream. Once you're logged in and ready to go, squeeze out a big glop of hand cream onto your hands and get to work rubbing it in. You can't touch your computer keyboard or phone or anything else until the hand cream is absorbed — which leaves you with one option for the online meeting: LISTENING.
2. Use an out-of-office message telling your network when you're in an online meeting — this will stop your mind from fretting about what's happening in your email inbox. Plus it will be a conversation for you when you return their call or voicemail…
3. While you're at it, ensure all your devices are on Do Not Disturb. If you find it incredibly hard to imagine not being notified of every post on Insta or Slack or whatever, go back to Tip 1 and slap on more hand cream.
4. Skip Your Perspective. You don't need to share your opinions, experiences, friend of a friend story, "oh that happened to me…" moment (aka takeover the conversation to focus on your-point-of-view). I hate to tell you: sometimes, your perspective is NOT necessary. Your ears however, are. So zip it, accept you don't need to have all the answers or frankly, any response to what is being said, and simply take in everything the other person has to say.
After the meeting, reflect on all you've heard — with your ears and eyes. What have you discovered? What actions to connect more effectively and meaningfully can you take based on all you have listened to and learned?