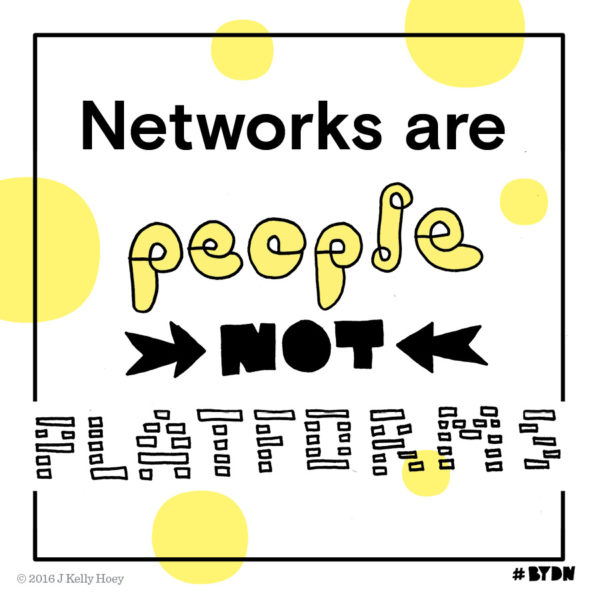 I don't know about you, but April, onset of spring and tax filing deadlines are a deflating 'so what' as well as a "shite, get on with it" time of year for me. Opposites attract so why not with our mood or approach to the same circumstances? What is enjoyable from one perspective can be hideous in another (take the April snowfall in Chicago over the past weekend) and vice versa.

Which is what makes the activity of networking so hard. What looks good in the light of today may be a regretful choice in the dawn of tomorrow. If you've heard any of my #BYDN talks you realize THIS is why I say networking is so damn hard – harder than a "10 things" listicle makes it out to be – networking is so damn hard because networking is entirely, completely, absolutely and always, a HUMAN focused activity. And let me remind you once again – we humans are uniquely weird, difficult, delightful, self-focused mood-shifting creatures. Good luck with AI or machine learning or an algorithm figuring us out – or shame on us from even imagining we can delegate the hard stuff (human relationships) to technology.

The so-called soft stuff (collaboration, human interactions, communication) is HARD as my friend Tom Peters would say. Networking relies on those soft skills (so it is really damn hard). So don't beat yourself up when you agonize over attending a networking function. Interactions with others – especially those we don't know well – is hard. No two ways about it. It involves listening. And empathy. And being vulnerable, open to rejection. And requires a focus on someone else for a hot-half second. These are behaviors we're not necessarily inclined to default to. So don't be enticed by a sweet 10-point networking-made-easy promise or handy dinner-party checklist to think differently. And just because it's hard doesn't mean it (networking) is lacking in enjoyment or dare I say, it – FUN. Just keep your brain – along with some empathy – engaged in the process and you'll be fine.
Some mid-week motivation:
My recent Business Builders Show conversation with entrepreneur and overall phenomenal person, Lauren Maillian. She drops so incredible marketing takeaways from working with luxury brands, her book #ThePathRedefined and appearing on Bravo's Drop Your Day Job – so listen up!
My pal Melissa Gonzalez of the Lion'esque Group invited me to participate in her IG Live #TuesdayTalks to share #BYDN insights on creating valuable partnerships (within the context of networks, relationships and community). Find a recap here.
And speaking of my pal Tom Peters, don't look for another book. He dropped a one-pager – an Agenda – encapsulating his thoughts for future conversations in an era of technology crushing/threatening jobs aka humans. How to win? Well, read Tom's Agenda and strive to be human, and far more human than your competitors.
Also new on the #BYDN Blog: Are You In Need Of A Career Reboot?Suggested reading for anyone feel blah in their current career situation.
ICYMI on the website: links to all my podcast recordings including The Meet The Innovators series I moderated at the Apple Store.
Psssss. Did you notice that April 15 (traditionally tax filing day in the U.S.) also fell on #TheSucksDay? Yes, there is a day for everything and that one was perfectly scheduled.