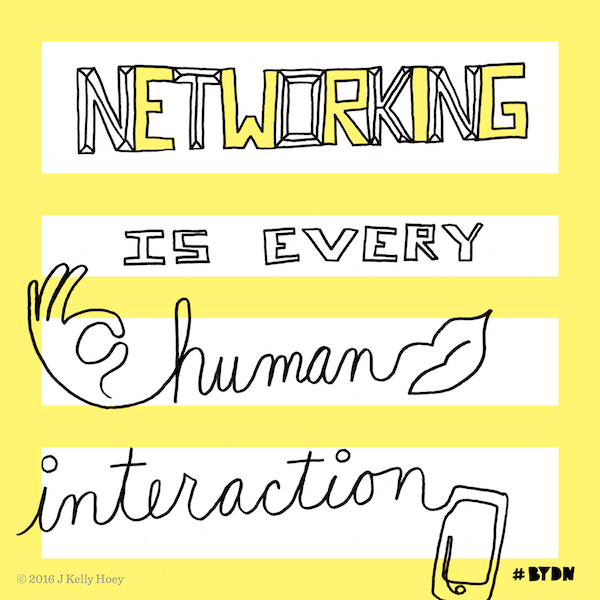 Mastering networking isn't about loading up your calendar with a specified number of 'coffee dates' each week.
It's not an activity that relies on IRL or having to be the "social" sort.
It's definitely not a 10-point checklist you whip out and rigidly follow (only when you need to).
Rather, being good at networking depends on committing to a lifelong cycle of building relationships. Sounds a bit like work, right? And guess what, it is. But this is work you are already doing! Think about it, you show up every day for your email inbox, so how about showing up every day for the humans behind the signature lines.
I want you, starting today, to stop sweating over your personality type and I most definitely want you to skip the mindless "I hope you are doing will during this difficult time" outreach so as to fully commit to the daily work of networking. Like compound interest, the benefits of showing up regularly for your network are cumulative. A little effort each day instills trust, strengths relationships and builds career confidence.
To ease you towards a new networking mindset, here are 24 opportunities to improve your personal connection-making muscles throughout your average WFH / remote / socially distanced / mostly virtual workday:
Use #hashtags to discover communities of shared interest and incorporate them into your virtual workout routine.
Say "hello" when you enter your next online meeting (why stay silent when there's a chat feature!?!).
Take a moment to actually read the article referenced in a contact's LinkedIn post – and go beyond a "like" by commenting on their post (even if it's a simple thanks for bringing the information to your attention).
Step up your mentoring (and networking) by answering a question in the group Slack rather than "waiting for someone else to help the new person out with THAT question again".
You're looking at your calendar daily so why don't you scan it for upcoming birthdays or anniversaries – then remember to send your best wishes.
Be present for your colleagues by turning on your camera during virtual team-meetings and taming your multi-tasking tendencies for the duration of the scheduled meeting.
Take notes during online presentations then share a summary of your takeaways with co-workers who missed the discussion.
Reveal a little of your personality by adding a quote to your email signature line.
Convey your real interest (and enthusiasm) by sitting up straight next time you leave a voicemail message.
Embrace "no and …" to offer alternatives for another person's untimely demand (when you're not the right person for the task or project).
Respect boundaries by reading out-of-office email messaging before you hit delete and on-the-flip-side, set expectations as to your responsiveness by leveraging the out-of-office or vacation auto-response with a custom message.
Circulate an agenda before your next meeting – then ask the attendees to comment or indicate their preference on where to begin.
Craft a brief introduction for the inevitable moment when you're asked to "

briefly

introduce yourself".
Connect without imposing simply by sending a regular status update on your project or KPIs.
One size does not fit all, so trash the templates for "standard" outreach communications, and instead focus your attention on the needs of the actual person you're reaching out to.
NO one wants to read a long never-ending paragraph, especially on their mobile phone. Focus on the device the recipient uses at the time you're sending that email message and format your communication accordingly.
Send a text when you can't pick up a call.
Insert a pause in your prepared remarks to give space for someone else to participate in the conversation.
Actively listen during your next virtual meeting – with your eyes as much as your ears ('cause observing may just unlock a way to connect with the troublesome colleague or difficult client).
Check the tone of an email by picking up the phone and calling the sender.
Ask for clarification when you don't understand versus second guessing or assuming then losing the opportunity to connect by asking questions.
Probe a little when no-one has any questions at the end of your powerpoint presentation.
Deduce by the interactions on Slack when someone could be struggling then proactively send a DM to help them out.
Lead with your daily actions – not by memo or yet another, webinar.