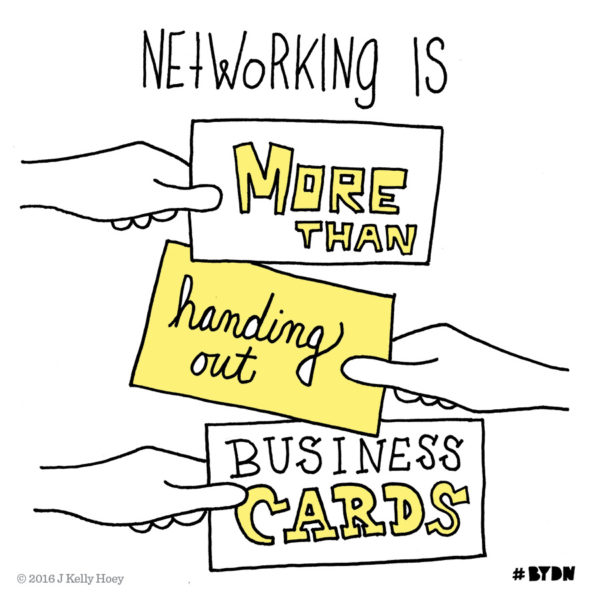 Networking is every single interaction.
I've said it before. And I know I'll keep saying it.
Networking is every single interaction.
I share a list on 7 of Build Your Dream Network* (a rather mundane list actually) of daily activities that have the capability to build connections — if we treat these dull activities as having network-building possibility!
What is one of our most frequent, overlooked, annoying human interactions, pandemic or not….EMAIL. So what's in your EMAIL SIGNATURE line? And while you're looking in your inbox, take a gander at your out-of-office or vacation responder!
Your email signature is a critical tool in your networking toolbox. Maximize it to make a first impression or to guide your network to the information YOU want them to focus on or discover about YOU.
For example. Here's a #BYDN tips shared by The Cru:
Look at what's already in your toolbox. How can you leverage what you are already doing every day? For instance, your email signature can work harder to tell your story: You can share a quote or point to something that you're working on. Or look at the out-of-office auto responder as an untapped resource. How can you use that to say how you're investing in your own personal or professional development? Maybe you could say, From 2 to 4 pm today I'm doing a webinar for The Cru and will be back after that. It's a social signal to your network; cues like that are part of why people want to invest their social capital with you.
From my own inbox, this GEM of an email signature line from Melanie Delicato Program Manager, Retail Store Events at Staples Canada:
Networking Tip: Be Memorable
How: First impressions happen even before you speak. Let people remember how you were present, free of distractions and participating. Define your Networking Etiquette (relevant for in-person and online).
Where: [Link to upcoming Staples Canada Event]
Whether you're planning an event, webinar or event, or releasing a report or white paper, borrow Melanie's formula!
LMK how you re-draft your email signature line or how you put your out-of-office to more a powerful use.
*Pulled right from page 7 of Build Your Dream Network:
Successful networking requires understanding the immense power of regular daily activities to connect with someone else.
These are all networking activities:
1. Your e-mail signature line
2. The wording of your out-of-office autoresponder
3. Your voicemail message
4. Your profile on a website
5. An update posted on your LinkedIn profile (or the
headline you use on LinkedIn)
6. Your headshot on a social media profile
7. Your bio as a speaker or award recipient or board
appointee
8. Your invoice
9. The music that plays when a customer is on hold
10. Participating in a Twitter chat
How you present yourself in any of these "networking encounters" is as important as a VIP invitation, a solid handshake, or a slick elevator pitch.