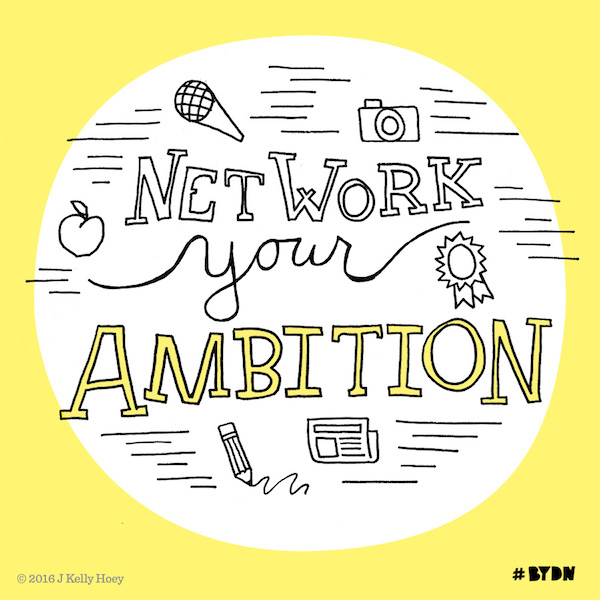 Another reader question – and BYDN answer (and yes, why yes I do aspire to be the Dear Abby or Miss Manners for troubled networkers – and if I've made a cultural reference you're confused about, hit Wikipedia to figure out what I'm talking about).
Now back to networking business! Here's the question from Caroline, age 19, a first year Bachelor of Commerce Student who is looking to convert one of her finance internships in to a full-time offer post-college:
Dear Kelly,

I am writing with a burning question on how to build my professional network. I am currently reaching out to people in various positions in different finance companies – largely Investment Banks – and the first-time meetings are going well.

I would like to know:
how I can keep up contact with them periodically
what I can talk about with them that's not just about their company or the news
in general how I can make our interactions less transactional.
I would love to eventually be on informal terms with my growing contact list so we become more like work friends than people who know each other, but I'm not sure how to advance the conversation to get there.

As these are very busy people with 14+ hour stressful day jobs, I don't want to become annoying or a burden to reply to. So I'd also love to hear your thoughts on how often you recommend reaching out to stay in contact.

Sincerely,
Caroline

Here's the guidance I sent along to Caroline:
Hello Caroline –

First networking thought, have patience. It takes time to build relationships. One of the stories I tell is how the best selling author of 19 books became a mentor and friend – short version of the story, it took 7 years (for many of those years, it was idle banter on Twitter). Consistently showing up and having patience, not trying to force a connection, that is the best way to build a strong, professional network.

Second item to keep in mind, some people aren't looking to add on more friends, so don't worry if they aren't opening up or sharing personal information. And as a practical matter, it is rather hard to build a large professional network by getting to know each person deeply. There are only so many hours in a week! A strong network includes both people we know well, and those less well, so don't fret if relationships remain "professional" or acquaintance.

Third and final thought on this: pay attention to what's going on in the industry. Keep on top of trends and developments as that will give you something to talk about with these connections. Watch what they post and talk about too — as there may be conversation starters there. It's never transactional if you're genuinely interested in the other person's feedback, insights and opinions.
What's your advice? What do you think of this advice? Caroline has yet to follow-up with me on it so I'm not sure if the guidance was useful or perhaps, she was looking for an easier way to build her dream network.