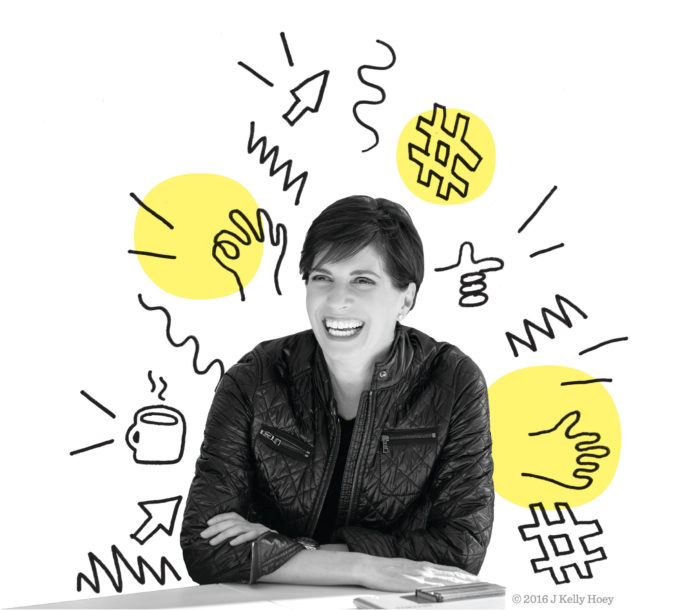 I was recently invited by the Canadian government to speak at an invite-only entrepreneur forum in the nation's capital. The audience? 400 women entrepreneurs building growth-oriented businesses. And while a scheduling conflict prevented me from accepting the invitation, I have continued to draft "my remarks" — perhaps in the hope of an invitation being extended again in the future or more likely the public speaking self-doubt brain chatter which inevitably echoes between your ears when you want to deliver tangible insights and inspiration to your target audience….
So what have I been thinking about saying to 400 women entrepreneurs?
Depending on which headline you read, it's either the best or worst of times to be a woman entrepreneur.
More women are starting their own businesses yet….we are just not getting "there" yet.
"There" being top of the heap, unicorn or super-unicorn status, ringing of the opening bell at the New York Stock Exchange or some other headline grabbing status which doesn't include the words:
Sexual Harassment
Diversity
Gamergate
Sexism
Gender Discrimination
Lack of Funding
Pipeline problem
Funding Gap
Tiresome, endless maddening negativity which could cause you toss in the entrepreneurship towel — if the stakes and returns weren't so high.
So what's a girl to do when –
Women hold 11% of executive positions at Silicon Valley companies.
The number of female partners in VC firms is now around 6%.
97% of VC-funded businesses have male chief executives, and businesses with all-male teams are more than four times more likely to receive VC funding as teams with one or more women.[1]
According to a MIT study in 2013 "investors prefer entrepreneurial pitches presented by male entrepreneurs compared with pitches presented by female entrepreneurs, even when the content of the pitch is the same."[2]
Women are just 26% of the tech workforce (and only 3% of those women were black, 5%were asian and 2% were hispanic).[3]
Women who work in computer and mathematical occupations make 84 cents to every dollar a man earns.
Industry-wide, 77 to 79 percent of VC firms have never had a woman represent them on the board of one of their portfolio companies.[4]
Don't get me wrong — we do and should celebrate the successes of women who have made it — Spanx's Sara Blakely or health tech entrepreneur, Elizabeth Holmes — or women who are well on their way to making it, like Nasty Gal / Girl Boss, Sophia Amoruso.
However, I want to see the names of more women roll off the leadership, inspiration or whatever top lists as easily as we rattle off the names Jobs, Buffet, Gates, Zuckerberg…
So what's a girl to do?
Simple.
Change what you can control by starting with your pocket-book.
Here is what is within your power:
Spending
Investment
Where and with whom you do business or refer business
Before you brush aside the notion that one person or pocket-book can make a difference, think about this — women are the 85%. Our combined spending decisions account for 85% of all consumer purchases from autos to health care.
Women are the decision makers when it comes to:
• 91% of New Homes
• 66% PCs
• 92% Vacations
• 80% Healthcare
• 65% New Cars
• 89% Bank Accounts
• 93% Food
• 93 % OTC Pharmaceuticals
• 58% of Total Online Spending
That's a whole lot of economic decision-making power.
But there's more.
Women own most of the nation's wealth in the U.S. (earned, inherited, family) — and are predicted to control two-thirds of it within a decade.
We're earning it, inheriting it — why debate how it got it our bank accounts — the fact is the power to effect change is in our pocket-books today, that economic power is growing larger and what are we doing with it?
Not enough. Yet.
There are 8.5 million accredited investors in the U.S., but only 3% are actively investing in startups and small businesses.[5] Based on wealth ownership predictions, that's a whole lot of women standing on the sidelines — missing out not only on the opportunity to change the face and names — of the startup landscape but to achieve substantial portfolio returns.
Women-led investments are a good bet. Mark Suster of UpFront Venture Partners acknowledges that his fund's two biggest exits have come from women founded companies and he'd like more of them.[6]
I want to see more as well — women founders and women as investors — benefiting from successful exits.
So how do we do it? How do we get to "yet"?
For me it is a simple formula — start with your own pocket-book and change what you can control.
I can't change the number of women in VC, but I can change how and where I invest, whether it is in early-stage companies founded by women or publicly-listed corporations whose corporate culture from workplace policies to board composition reflect the change I want to see in the world.
I am intentional in where and how I invest — including my time — where I spend my money and who I refer business to. I am one consumer, and one small angel investor but I'm part of a powerful 85% that moves markets, adds to the bottom-line and causes shareholder returns.
As are you.
If you follow me on Twitter, you will see that my bio is "Invest in the change you want to see in the world" and if you, like me, want to see more women funded, making the Forbes list or ringing the opening bell at the stock exchange then start wielding the power of your pocket book.
Leadership may start at the top but change comes from the bottom — especially when the change is in the bottom of a pocketbook.
************
[1] http://www.theguardian.com/technology/2015/mar/13/ellen-pao-gender-lawsuit-silicon-valley
[2] http://www.pnas.org/content/111/12/4427.full
[3] http://www.bustle.com/articles/69643-how-can-we-help-women-in-tech-succeed-11-things-executives-women-and-men-can-do
[4] http://www.wired.com/2015/03/gender-problem-venture-capital-really-really-bad/
[5] http://siliconprairienews.com/2014/09/dundee-venture-capital-launches-syndicate-so-more-can-invest/
[6] http://venturebeat.com/2013/06/27/la-based-grp-partners-closes-new-200m-fund-rebrands-as-upfront/