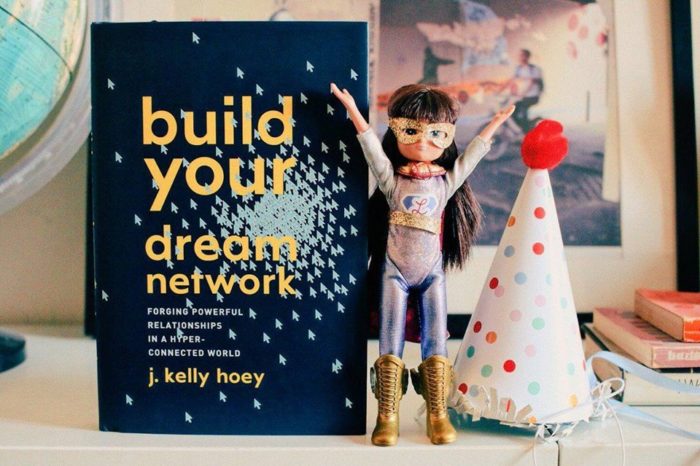 Where has the year gone? Simply executed as planned (and then some), adapted for weather delays and sprung into action.
In case you were wondering what a year in the life of an author / entrepreneur, looks like….
Hardcover Release Date: January 3, 2017
Number of Printings (Hardcover): 4
Number of Public Libraries with copies of BYDN in their collection: 240+
Social networking accounts: 10
Active social networking accounts: 9 (sorry Snapchat!)
Tweets: Too many to count
#BYDN insights into reader inboxes: weekly newsletter (delivered every Wednesday at 9 am)
In-Person Events (panels, keynotes, Q&A sessions — you name it): 140+
Top three networking questions asked:
Why do you think networking is so difficult for people?
What are the biggest networking mistakes you see people make all the time?
What networking advice so you have for introverts?
Frequent flier miles earned: enough for three status upgrades on American Airlines (hello! Executive Platinum!)
Build Your Dream Network went on the road, visiting: Ann Arbor, Detroit, Phoenix, Newark, Chicago, Sag Harbor, Kitchener ON, Stratford ON, San Francisco, Mountain View, CA, Halifax NS, Thunder Bay ON, Montauk, Toronto, Aruba, Raleigh NC, New Orleans, Washington, DC, Ottawa ON, Tampa Bay, Miramar Beach, FL, Austin, Philadelphia, Boston, New Haven CT, Omaha, Edmonton, Nashville, Dublin, London, Sydney, Melbourne, Brisbane + Perth, Australia, Dallas, Houston, Charlotte NC, Darien CT, Greenwich CT, Orlando FL, Richmond VA and Indianapolis.
#BYDN connected with: Johnson Women In Technology Conference, Michigan Bio Tech, NOEW, Women In Tech Summit, #WITDemoDay, Legacy Canada, WIN Forum, Wall St Women Forum, Omaha Startup Week, DMS 2017, Google Women Entrepreneurs Summit, 36/86, Inspirefest, Fear Paradox Summit, TX Women Rainmakers Conference, ATECH, TX Conference for Women, PA Conference for Women, MA Conference for Women, Indiana Conference for Women, GHC (Grace Hopper Celebration), Macaroni Kid Meetup, Women In Payments, LMHQ Monthly Breakfast for Women Entrepreneurs, LMA Eastern Region Conference, Atlantic Venture Forum, C4Q Hack Femme Conference, and Women in Cable Telecommunications/Women @NBCU and networked with: Rotary Club of Dallas, Happier Hours, New York City Bar Association, NY Women's Bar Association, Women's Media Group, Harvard Club, Barnard College, Penn Law School, Yale Law School, Cornell (School of Management), International House (Columbia University), University of Tampa, Lowth Entrepreneurship Center, University of Waterloo, NYU School of Professional Studies, YWCA of New York City, National Association For Urban Debate Leagues, Greenwich Library, Darien Library, Fergus Public Library, New York Public Library, Startup Edmonton, Accelerator Centre, Volta Labs, Innovacorp, The Communitech Hub, Northwestern Ontario Innovation Centre, CDMN, Invest Ottawa, DMZ, ventureLAB, Build Institute, Nasdaq Entrepreneurial Center, TiE Network, LMHQ, Twitter,Google, Women In Sports & Events, Parity Partners, Plum Alley, Aon, Accenture, E&Y, Financial Women's Association, Legal Marketing Association, Travis County Women Lawyers, Special Counsel, TX Women Rainmakers, WILEF (Women In Law Empowerment Forum), Lee Hecht Harrison, King & Wood, Mallesons, Seyfarth Shaw, Phelps Dunbar, Stroock & Stroock, Sidley, Latham, Orrick, Kirkland, Goulston Storrs, Perkins Coie, Goodmans, BNP Paribas, Bank of Ireland, National Australia Bank, Bank of America, Sumitomo Mitsui Bank, Calibrate Legal, Totum Partners, NZTE and SCORE.
#BYDN proudly partnered throughout 2017 with Capital One and Comcast.
Build Your Dream Network was featured in a variety of media sources from the AARP to Vogue.com to Real Simple, AdAge, Monster.com, Women @ Forbes, Quartz, Parade, Refinery29, WestJet's Inflight magazine, as well as the Waterloo Record and The Blaze.
So, what's next in 2018 you ask….
Paperback Release Date: January 2, 2018 (with a forward by best selling author, Tom Peters)
A new collaboration with The Accessories Council.
More tweets and posts (no, never did manage to share some of the planned #BYDN content and visuals) and exciting new online content.
And yes, this author / entrepreneur / road warrior is taking the paperback version of Build Your Dream Network on the road starting with Chicago (Kellogg School Of Management) then on to Hamilton ON (Innovation Factory), plus Moncton NB (Venn Innovation), Newfoundland (Genesis Centre), Silicon Valley….(stay tuned, more to come including YES, more events in the Big Apple) and to conferences including Watermark Conference For Women and to: Network For Women With Careers In Technology (Philadelphia), NALP Annual Education Conference (Hollywood, FL), StartupFest (Montreal), 36/86 (Nashville), True North(Kitchener)…..(and to expanded #BYDN audiences hopefully near you).
If you're interested in planning a #BYDN network book event with me or having me speak at your event in 2018:
Fire me an email or tweet or contact Erin Simpson at PRH Speakers Bureau (email: esimpson@penguinrandomhouse.com // phone: (212)-366–2263) — and let's connect to get it your event on my #BYDN calendar.