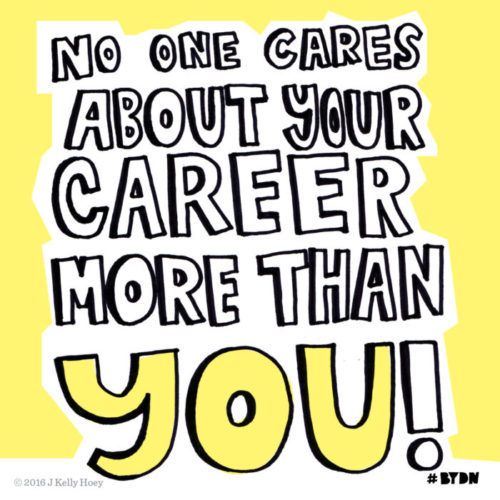 What do YOU need to be successful at work?
This YOU is primarily for you college-aged Build Your Dream Network readers. Yes, those of you who are recent grads, heading off to college, taking a gap year to sort your thoughts before continuing your studies and launching your careers, are top of my #BYDN mind – yes, 5 weeks of college student focused content created by my college-aged intern is one big reason, another is a series of networking videos (and related blogs) I created for first-year law student orientation at the University of Texas at Austin School of Law and then, there is Capital One's newly released 2019 Work Environment Survey (annual survey taking the pulse of full-time office employees across the U.S. towards workplace design and experience).
What is the work environment you need to thrive?
When I was running around frantically interviewing for my first post-law school full-time job in the summer of 1990, I don't recall factoring office space into my decision-making matrix. Sure I checked out the artwork and furnishings in the offices where I was interviewing but more with an eye to ego and prestige, rather than productivity. It did not occur to me to reflect on whether I'd be happier in one style of office over another or whether my success trajectory (beyond money) would be impacted by physical location. Historical note: salaries for new attorneys in the early 1990's were ridiculously low in Vancouver where I was studying law, and my decision to start my career in Toronto was almost entirely based on having something approximating a living wage. But that was then and yes, with the benefit of hindsight, it's not the way I'd guide my 20 something year-old self on her job search.
Pause to reflect on how and where you produce your best work.
Back to YOU.
College. Your studies along with part-time jobs and volunteer experiences are an opportunity to start reflecting deeply on the structures, systems and surrounding you need for your success.
There are endless success stories about the career of legendary investor, Warren Buffett. For me however, what stands out is that from very early on in his career Buffett knew living in a low-key city, away from the noise and distractions of major financial centers, was where he had to be in order to have a chance at producing his best work. He had to plant his potential (along with ambitions) in the right location. To become the Oracle of Omaha, he needed space to think clearly, not the perks and prestige of New York City.
Where do you need to position yourself in order to be at your very best?
Put program offerings at your college and course selections aside for a second. Do you thrive on the bustle of the college cafeteria or the solitude of a secluded corner? What were the reasons for selecting an urban school over a rural location?
Answering these types of questions – the physical "where" for your talents – is a personal journey of discovery, and one I'd wish I'd happened upon earlier in my own career (frankly, I didn't give a whole lot of thought to until rather late in my career). Whether this understanding would have changed the trajectory of my legal career is irrelevant. I simply wish I'd known to ask myself the "what do I need" questions.
To prod you along on the internal self-reflection path to further your career, a few intriguing productivity data points for 5 major cities to muse on (data pulled from the 2019 Work Environment Survey and my hunch, these are likely to be workplace hiring / retention strategies of smart employers in those markets – so why not put your work needs in front of the right job market?):
The city that never sleeps is picky about the perk

s. Urban professionals in New York City have high expectations around perks their employers offer. If office perks motivate you to produce your best work, maybe New York City is the right home for your talents.

Collaboration is key in the nation's capital

. Employees in Washington, D.C. believe they work better in spaces designed for collaboration. If you thrive on teamwork, the community for your career could be in D.C.

Switching it up in Chicago

. No, not jumping around, switching careers but moving around, changing physical location while working matters to Chicagoans. In fact, they feel more strongly about this than other cities surveyed. If it is critical to your productivity to have a variety of locations to plunk yourself down to work, your tribe is in the Windy City.

Self-determination in Dallas

. When it comes to where the work gets done, and when it gets done, professionals in Dallas want to be the ones who get to decide. If your success demands workplace flexibility, consider this metropolitan area.

Lifestyle first in San Francisco

. In the office, professionals in San Francisco value benefits that help them to maintain a healthy lifestyle. If the best fuel for your career ambitions are healthy food options and wellness perks, head to the Bay Area.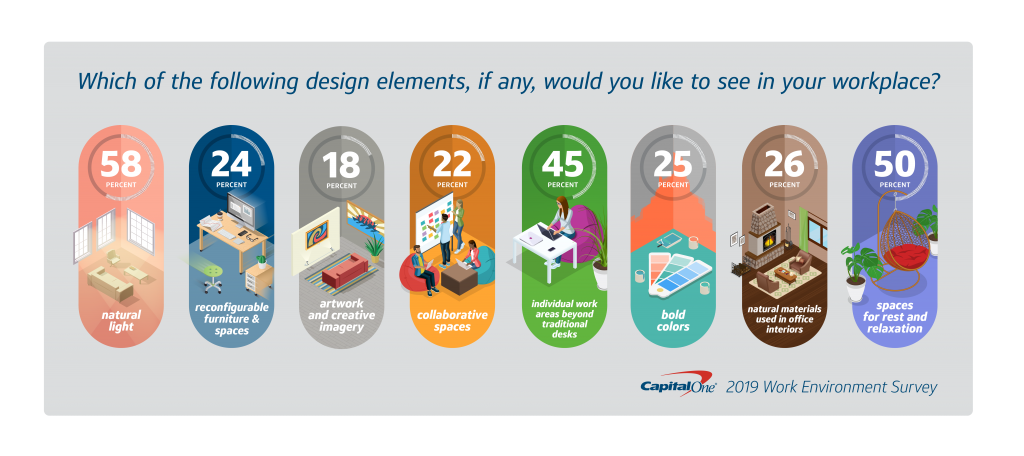 Discover a whole lot more college-focused career content on the BYDN blog including:
Now in its third year, the Work Environment Survey is an initiative of Capital One's workplace solutions team, undertaken to capture the thoughts and attitudes of employees (not Capital One employees who are not part of the survey population) toward workplace design and experience – and more importantly, how these elements (design, and work amenities) impact productivity, collaboration and employee well-being. My career thrives on collaboration, so I'm thrilled to partner once again with Capital One on sharing the results and key findings of this survey. Discover more of what today's talent needs, wants and expects from the work environment here.