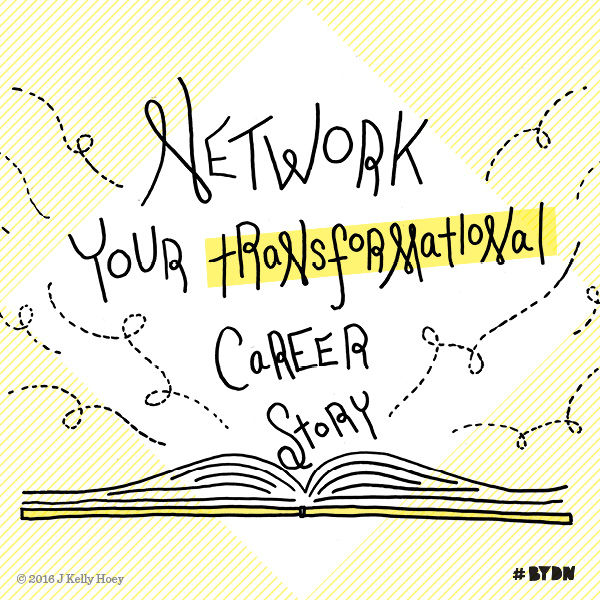 Action bias is a creativity killer according to organizational change and future of work expert, Monica Parker. When we're so busy rushing around acting, we thwart creative solutions and likely bypass outcomes that ultimately could be better for our careers – not to mention our mental well-being.
I'm guilty of action bias.
2017 and 2018 were rush rush rush to speak at every possible event, to spread the #BYDN gospel. 2019 was a little more managed, but not so different that the previous two years.
Then 2020.
Stuck at home, I've been doing what many people have been doing: reorganizing, de-cluttering…and for me, that has meant digging through computer files, rediscovering ideas I first generated back in, oh, 2015-2016.
Yeah, so busy acting that I relegated new ideas to the back of the closet (where "what the heck is this?" gets dropped, only to be rediscovered later, you likely have had one of these discoveries).
IN my digging, I (re)discovered:
images that now fuel the growing Build Your Dream Network GIPHY channel (1.2 million views in 2 months!);
ideas for a cards against career stagnation digital card game (BYDN themed card game inspired by Cards Against Humanity now being tested over on All Bad Cards);
Worksheets. Worksheets. Worksheets. So many worksheets that promoted the creation of my Networking Makeover course and will guide the 32 participants in my Networks Women Need mastermind; and
so many more gems that I'm pausing, mulling and musing over, and finally implementing. My seemingly new projects are grounded in ideas sparked several years ago. Sigh. No what if's, I'm glad a forced pause allowed me to rediscover these ideas, and in doing so, re-energized my #BYDN mission.
Don't wait for another exceptional year or event to insert a pause in your action. Schedule it. Plan for it. Delegate to create time for it. Push busy work aside to prioritize it. Just don't avoid it.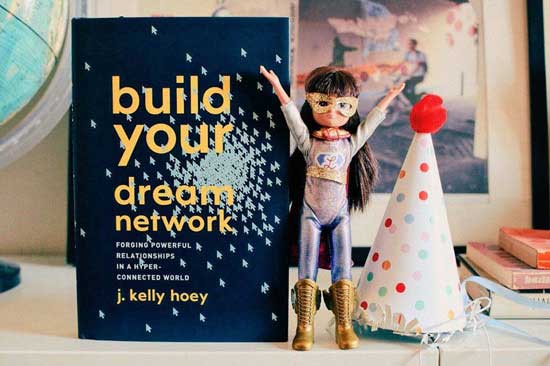 Now…in the clearing out the clutter department, Janet Hanson (founder of 85 Broads, featured in #BYDN at page 97 in the chapter "Open Your Own Doors" which was, coincidentally the original working title of #BYDN), forwarded to me an email I wrote BACK IN 2010.
2010!
A decade ago.
The start of my career transformation, my new career journey.
What was rather delightful in reading the email (beyond the belly laugh and banter with Janet) was discovering how consistent I've been in my network-building messaging (no, I had no dreams or inclinations to write a book back in 2010). Let me share a a snippet from the email sent way back on February 22, 2010:
Thanks to all the Chapter Leaders who were able to participate on the "social media" WebEx today. As promised, some follow-up information.

The "Big Three" – Facebook, LinkedIn, Twitter – are venues to reinforce the 85 Broads brand, promote members and introduce a new audience to our global network and chapters. All are "satellites" to 85broads.com – the goal is to use these sites to inspire women to join the network, ensure members find value in their membership and for potential new members, to join they need to connect with the 85 Broads website!

Using social media is about connecting and building or enhancing relationships. Relationship building takes time. If you try to shortcut social media, you're shortcutting the opportunity to build strong relationships.

Keep in mind that what 85 Broads members enjoy is a "commercial free" network – not being "spammed", the absence of banners, pop-ups, discounts, special offers and advertising on 85broads.com. Promotion is done through good old-fashioned word of mouth and establishing of reputation by network membership and participation. Let's all make sure we don't damage this goodwill (and the brand) by spamming members through social media (or broadcasts for that matter).

Using all of these social media tools takes time and consistent effort. Yes, this involves some work – which is why I really stress focusing on the basics – updated profiles and new content on the 85 Broads website – and using the external social media tools in place (Facebook Fan Page for 85 Broads, Linkedin Group & Subgroups, Twitter accounts). Stale content, pages which are not updated, rarely used Twitter accounts, inactive or incomplete profiles – definitely not the social media "face" we want for the 85 Broads network. Getting your blogs, expert articles, events and information up on 85broads.com well in advance, will provide more time and opportunities to promote through Facebook, Twitter and Linkedin.