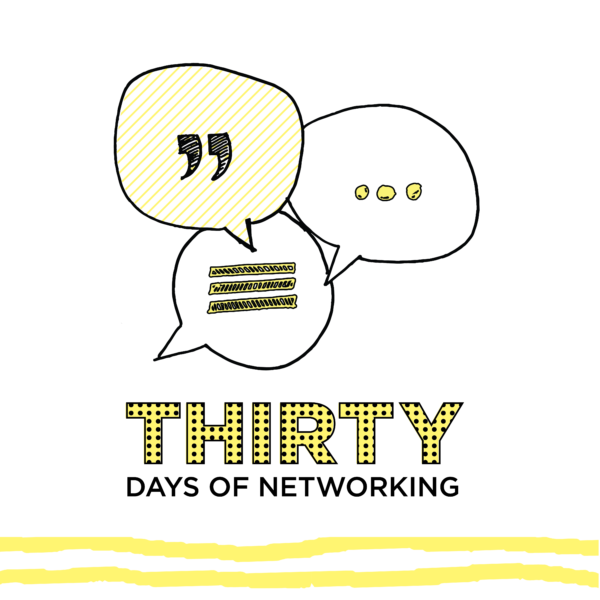 Networking may not be top on your to-do list this time of year, but to stay top–of-mind it should be. And this is where the Build Your Dream Network 30-day networking challenge comes in.
I'm challenging you to rethink your networking habits and how you work with your network, for the next 30-days.
The idea for the 30-day network-building challenge originated in a conversation and launched in the summer 2019. January, just as the halcyon days of summer, is a perfect time to approach networking differently. In January, many of us are dragging our butts back to our regular routine after the parties and celebrations in December. There may be the pinch of finances after post-holiday splurges or pinch of the waistline after December indulgences. Between the new-found motivation to head to the gym, fatigue from over-extending yourself last month – who even imagines re-engaging in stereotypical networking events this month.
This is where the 30-day network-building challenge comes in.
So don't worry, I'm not suggesting you sign-up for events, or attend conferences or slap on nametag or organize a dinner.
The challenge is deceptively simple. The challenge is to do ONE thing each day. One thing. As I shared in a recent podcast episode "I'm challenging you to do just one thing each day for 30-days to connect with someone in your network."
That one thing doesn't need to be a coffee date or lunch or post-work drink. It doesn't need to involve attending a meet-up or conference. The one networking thing you do each day could be sending a text or being more focused on one of the myriad interpersonal interactions you have on a day-to-day basis (just decide to be intentional about the interaction). From delivering long-overdue feedback to taking a mentoring call or chairing a regular meeting – these are opportunities to improve your network. A few more ideas:
Endorse a friend on LinkedIn
Personlize a regret note for an event you cannot or choose not to attend
Organize a carpool instead of driving alone
Volunteer to lend a hand
Send a birthday card (or belated birthday card)
Invite a colleague to join you at an event you're attending
Fire off a congratulatory text
Recommend a book
Comment on a social media post
Pick up the phone
Wave to your neighbor (assuming you're on friendly terms)
Organize a lunch & learn in your co-working space
Send along an article of interest
Ask someone how they're doing – then listen to their answer
Finally introduce yourself to the colleague you've seen a million times and have never been properly introduced to.
Forward info to help their business grow or send along a job lead
Challenge yourself. What's one thing you can do today to build stronger connections in your network?
Let me know what ideas you put into action. Send me a note at kelly @ jkellyhoey.co and download the 30-Day Networking Challenge worksheet to track your progress!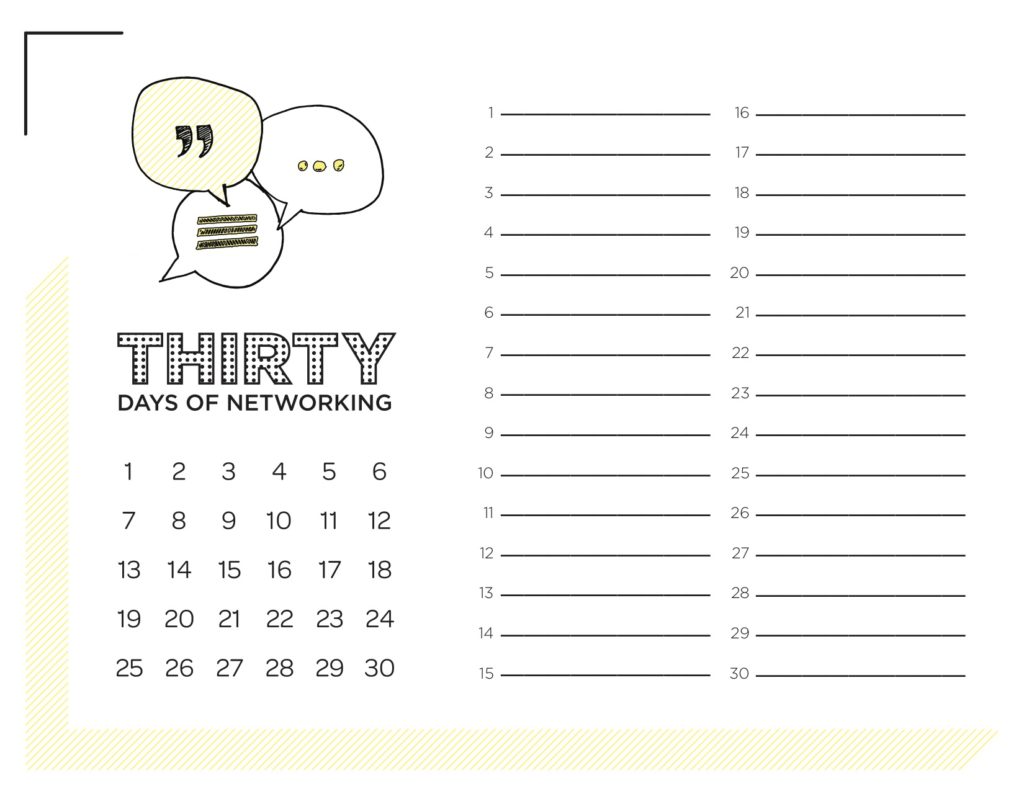 Need more networking ideas and inspiration?
Build Your Dream Network interviewee Rachel Hofstetter directed me to the #52memories hashtag with her posts. If undertaking one networking act a day is too much (or not enough), what about challenging yourself to once a week commitment?
Then there is this still relevant post I wrote for Forbes – "20 Ways To Build A Strong Business Network – Without Leaving Your Desk". Take an audit of your digital networking footprint, perhaps with a few adjustments you'll be quickly connecting to more of the opportunities you're actively seeking.