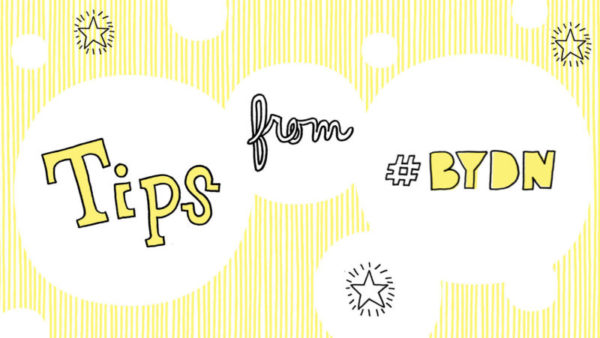 Over the course of the Fall, I've had the opportunity to take the #BYDN book tour to a number of hackathons, tech conferences (including #GHC17 #WITSCO), plus co-working spaces and other events where startups, founders, innovators aggregate. Conversations big and small. It has allowed me to re-engage with the innovation economy (since I took a step when own author-as-entrepreneur journey began in 2015) — and while I'm encouraged by what I see and the people I'm interacting with, I still find myself asking some of the same questions….if the best career opportunities right now (let alone in the future) are in technology, what will it take to get more women to stay in tech?
Seek mentors all around you and think of mentors in a 360 degree view– they don't always need to be more senior. — Sydney Klein, VP and Information Security Officer at Capital One (Sydney has a passion for Cybersecurity. She joined Capital One in 1999 and has held a variety of roles within Cybersecurity over the past 18 years.)
Build your network of mentors and champions. They may not be people you go to for help learning the next new programming language, but there will be people in your life who help you navigate uncertainty, tackle tough challenges and help you get to the next level. Find women — and men — you admire and cultivate a relationship with them. — Pamela Rice, Head of Technology Strategy and Innovation Labs Engineering at Capital One (Pamela's tech career has included roles at Bell Atlantic, UPS, PayPal and OnDeck. Based in San Francisco, Pamela is also the Executive Sponsor of Out Front, Capital One's Bay Area LGBTQ+ Business Resource Group.)
We must start elevating the positive stories of women technologists.
We don't hear enough about the women who are driving breakthrough innovation and leading large tech teams and bringing new products to market. While there are certainly challenges to be addressed across tech to solve for gender parity, there are also welcoming company cultures and exciting career opportunities that don't get enough attention. A recent NCWIT report shows women who stay in the field report more opportunities for training and development, support from a manager, and support for balancing work and other competing responsibilities.
As part of the 44% who stayed in tech, I'm committed to sharing the positive stories and facilitating new ones. I fear that without this inspiration, we paint a picture that will continue to discourage women and girls to stay in or enter a meaningful and rewarding career. — Julie Elberfeld, Senior Vice President, Shared Technology and Executive Sponsor of Diversity and Inclusion for Technology, Capital One (Julie's career in technology started in the 1980's — when the number of women represented in STEM was higher, and why she's such a champion for women in tech).
Raise up the volume with a broad and bold network.
I believe that it is a duty for every woman in technology to pull another woman up, identify another brilliant entrepreneur who is doing something great, or an engineer with visionary skills, and help her get the platform she needs to thrive. Without building community and amplifying our voices, we are not going to get anywhere. The reality of the tech and VC world is that there are more men than women of any background. We have to work with the men in our lives to make sure they become allies. As a founder, that means extending your own network to include men who are invested in your success. Inside a big company, it means developing and nurturing the ally environment.
I'm part of a small but growing networking group we call Visible Figures. It started with a handful of us and we are growing quickly. In some ways, it's our call to the future. — Asmau Ahmed, Senior Director, Product Management, Capital One (As an entrepreneur, Asmau Ahmed is one of only 12 black women to have raised more than $1 million in venture funding in the US. As a member of Capital One's Digital Product Management team, she focuses on designing products and experiences that change the way people interact with their money.)
Find mentors. Build your network. Raise the volume. Capital One's WIT Experience takes place on Wednesday, November 15 at the Greater Richmond Convention Center.
I'm really proud to partner with inclusive companies, such as Capital One, and to share their stories in my way, with my network — and yes, I'll be joining them at #WITExperience in Richmond, VA. All women in tech are welcome to attend.