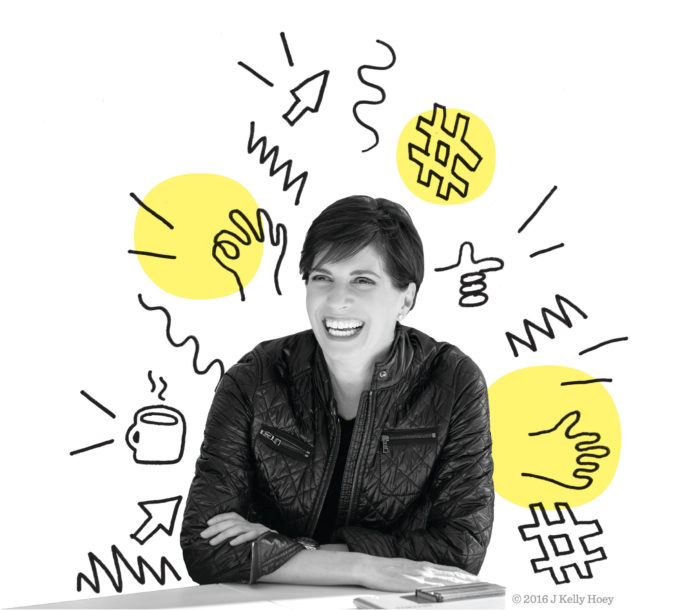 It's not 50/50 — yet — but women entrepreneurs are playing a more prominent role in New York City's tech sector, according to the recently released "Breaking Through: Harnessing The Economic Potential Of Women Entrepreneurs".
New York City's bright opportunity lights have long attracted the best and brightest talent for years — you know the saying, if you can make it here….so when Wall Street, Madison Avenue or traditional garment industry businesses don't appear to completely appreciate female talent, that very same undervalued, overlooked talent is packing-up its industry contacts, insider know-how and burning ambition, then heading down to the Flatiron District to start disrupting the career / industry they left behind.
There are many advantages for entrepreneurs, especially women entrepreneurs, starting businesses in New York — close proximity to users (as well as potential customers, decision-makers and stakeholders) and dominance in industries such as fashion, media, beauty and retailing (all of which are rapidly being transformed by technology), to name just two.
With those advantages, women entrepreneurs have helped make New York the epicenter of fashion tech, beauty tech and e-commerce via tech or tech-enabled companies such as Birchbox, Rent the Runway and Gilt Groupe.
But don't limit future female innovation just to these typically "female" centric industries. Female founders in New York City:
· develop new allergy tests (Immunovent),
· build messaging platforms (Snaps),
· provide crowdfunding analytics (Crowdnetic),
· innovate on the cutting edge of bone implants (Epibone),
· create telemedicine platforms (Maven),
· disrupt White Shoe law firms with platforms to purchase legal services (LawGo), and
· empower the purse through personal finance sites for women (Daily Worth).
In life sciences, women are poised to have a massive impact as well — 30 percent of the companies at Harlem Biospace have women founders and in Q4 2015, three of the five life sciences companies that received funding from the Partnership Fund for New York City were lead by a woman.
The rise of women entrepreneurs can be seen in both founding and funding numbers.
According to TechCrunch, between 2009 and 2014 New York City produced more startups with women founders than those other leading U.S. tech hubs. During those years, 374 companies or 21 percent of all tech startups created in New York City, were founded by women — compared to 15.5 percent nationally (shout-out to Brooklyn: that borough is best enclave for female founders at 28 percent).
Today, New York City tech companies with at least one female founder employ more than 7,000 people, and have raised close to $3 billion in investment.
Q3 2015 saw a higher percentage of female–founded companies receiving venture capital in New York City than Boston or San Francisco (16.9 percent of New York City companies had a women founder, compared to 14.8 percent in Boston and 12.1 percent in San Francisco).
And the boys now know that investing in women is a good investment. As the Breaking Through report indicates: "between 2003 and 2009, none of the 11 companies receiving funding from New York Angels had a female founder… [b]ut over the past four years, 16 of the 45 companies (36 percent) receiving seed funding from New York Angels (the city's most well-known angel investment group) has a female founder".
Female founders don't just need to ask the boys for money. Angel investor Joanne Wilson is legendary for her support of female founded companies. Then there are the growing number of female-focused venture funds: Golden Seeds, BBG Ventures, 37 Angels and Female Founders Fund, collectively have investments in 80 women-led companies (40 percent of them in New York City).
And female founders aren't stopping at the angel or round.
Female-led companies in New York City that raised Series B or later stages of funding during 2015 include:
· 3D orthotics maker Sols ($11 million Series B)
· ClassPass ($40 million Series B and $30 million Series C)
Female-founded companies in New York City that raised significant amounts of Series A financing in 2015 include:
· The Muse,
· DWNLD,
· Way Up,
· Nestio,
· Alfred, and
· Andela.
Collectively, these six companies raised approximately $60 million of venture capital last year.
Tech bubble or not, the Breaking Through report also highlights that women are raising money in 2016: in January 2016, insurance navigation site Policy Genius raised $15 million in Series B funding and online jewelry retailer BaubleBar raised a $20 million Series C round of funding.
Breaking Through was made possible through Capital One's Future Edge initiative — a $150 million, five-year effort to help more American workers and entrepreneurs succeed in the 21st century economy. Through Future Edge, Capital One works with hundreds of leading community and nonprofit organizations in New York City and beyond, including micro-finance and micro-lending organizations empowering women entrepreneurs such as Grameen America, Accion, and the Business Outreach Center Network. Learn more at www.capitalone.com/investingforgood or join the conversation on Twitter at @YourFutureEdge #StartedByHer. Shout-out to Capital One for funding the Breaking Through study and for sponsoring this post.