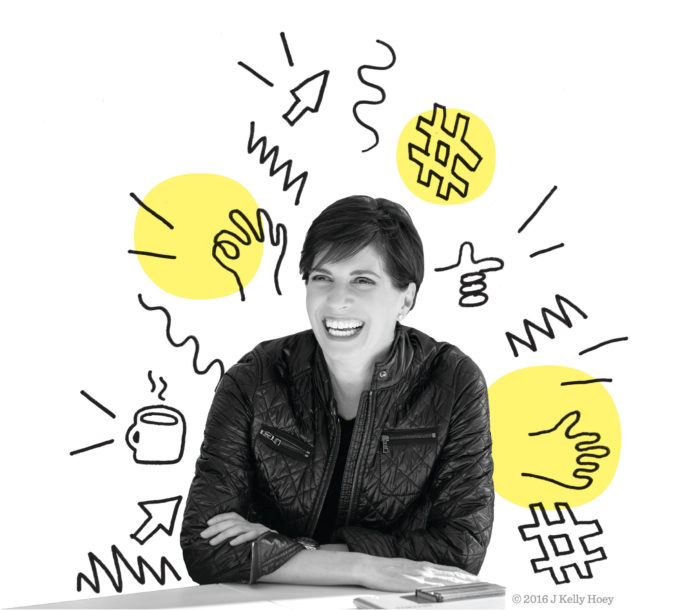 Yes, I get amused by emails that start "I'd love to hear what you're up to now" or include the line "I'd love to catch up with you to hear what you're working on".
I know, I know — it appears my career has bounced all over the place the past few years (perhaps the self and career discovery I should have undertaken when I was a recent college graduate???) and I recognize I have a lot of stuff listed on my online profiles — from my website to social networking platforms (LinkedIn, G+, Facebook, Twitter, Instagram…) to multiple profiles on social platforms to content platforms (Inc.com, MyTurnstone.com, LinkedIn, Medium) to career platforms (Levo) to media/speaker platforms (Innovation Women, Women's Media Center) to….
It's an enthusiastic (not exhausting) amount of content and stuff.
So, let me decipher all this stuff. And by stuff I mean the activities most of us need to undertake in order to raise our profile, build our ventures and create a work / life worth living.
I've written a book — which means I'm now an author.
My forthcoming book is titled "Build Your Dream Network" and is being published by Tarcher Perigee (January 2017). I feel like a startup: 2015 was spent developing my product (aka writing a book proposal, getting an agent and selling plus writing the book); and now, in 2016 product development continues (aka editing) and pre-marketing begins (yes, all the speaking stuff is not just for airline points and testing jet-lag remedies).
Inc. com. Turnstone. Innovator Insights. The endless blogs, posts and columns? Those words on the digital page are growing my audience.
Why BroadMic? Do I need to explain why host a podcast? On top of all the reasons why this podcast was the right one for me to add my voice to (from my investment philosophy to how I believe women should be portrayed in the startup ecosystem to basic networking) there is another simple reason: it is excellent practice before I record the audio version of my book.
I'm still invested in early stage ventures but not investing directly.
Why stay in but take a step back? My book is my full-time project, so I don't have the time to be an effective early-stage investor beyond the founding teams I've already directly invested in. Yes, early stage investment is more than just about the money. It is mentoring, advising, coaching — it is being there and honestly, I'm just not able to say I can be there if / when a founder needs me.
However, as I strongly believe that emerging technology/seed-stage investment is an important component of my investment portfolio, I'm a Limited Partner in a fund (Laconia Capital Group). I also keep my networking toes dipped in the global startup ecosystem through my advisory work with NZTE and the Canadian Tech Accelerator.
As for all that other stuff I'm up to –
Influencer projects with brands and companies I admire (such as Capital One);
Working with ambitious individuals looking to boost their thought leadership and rock their visibility online + offline;
Preparing for upcoming events (Mad, Bad & Dangerous, #WinForumNYC,36/86, Inspirefest, #CollegeHackTour…);
LEAP (Leadership And Executive Acceleration Program) for Irish / Irish American women; and
AND Hustling! Always hustling! Yes, I'm always seeking more speaking engagements, more ready-to-take-it-up-a-notch clients and more incredible brands for influencer projects.