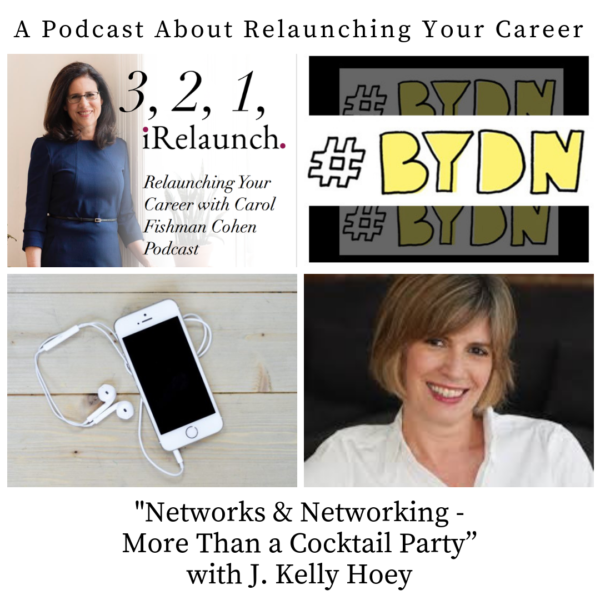 In this episode of the iRelaunch podcast, Kelly Hoey talks about the Build Your Dream Network approach to networking and ways to bring your networks back to life after a career break.
Kelly shares her career transition stories. How she transitioned from corporate attorney to a management role, ultimately landing in a newly created position as president of a global business network with women after a casual conversation unexpectedly transformed into a unique job opportunity.
From her own personal experiences, along with those she's interviewed for her book, Kelly explains why networking should be a researched, focused and specific process, and how to thoughtfully ease back into networks that have gone dormant.
Seeking more career reinvention guidance? Here are a couple of other recommended podcasts for career re-launchers and re-inventors:
Planning Your Workforce Re-Entry Kelly interviews Marci Weisler, Chief Commercial Officer at Vengo Labs, about how she approached a job search following many years of consulting and entrepreneurial ventures.
Reinventing Your Career. Kelly interviews workforce transformation leader Joyce Sullivan. Joyce not only guides others who are making a career transformation, but she's also reinvented her professional destiny after being laid off Wall Street during the 2008 financial crisis.
Also check out these Build Your Dream Network resources and checklist on Notion.