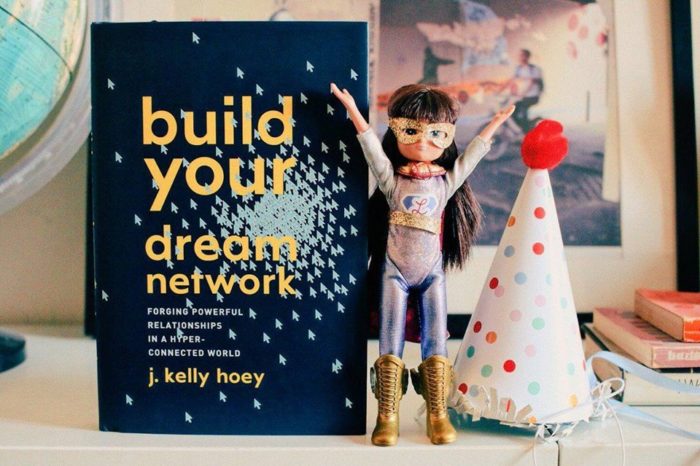 I am often asked to write pieces like this because, get right down to it, many years ago I co-authored a book titled In Search of Excellence — and quite a few people were kind enough to buy it. However, in this case, I offered to write the foreword to the paperback edition of Kelly Hoey's book, rather than her having to ask me. — Tom Peters
The paperback edition of Build Your Dream Network hits the shelf on January 2 and bestselling author Tom Peters has written the forward…yes, you read that right. Tom Peters. Tom "coauthor of the best selling business book for 30 years" Peters. Management guru. Professional agitator. My friend and mentor, on Twitter and IRL.
Spoiler alert if you haven't read #BYDN yet: Tom doesn't think I've written a book on networking….
Despite the title of her book, Kelly Hoey has, in fact, not written a book about networking. That's far too narrow a description. Rather, she has written a book about revolution: a necessary revolution we each need to make in order to get the things that matter to us done. — Tom Peters
Hmmmm.
As I note in #BYDN sometimes our network sees more in us than we see in ourselves.
I started following Tom on Twitter back in 2010 and somewhere along the timeline he started following me. I treat Twitter like a cocktail party — I try to be a good guest (listening, engaging) who wants to be invited into conversations and back to the party. Social media in spite of its warts and flaws is a great democratizer when it comes to networking. Other than being a fawning fan, groupie or sycophant at a book signing, before Twitter HOW and WHERE would I meet Tom Peters???
Here's the bottom line. Networking — like careers, ambitions, fulfillment in life — is fueled by other people. Be a people-centric person in whatever you do — or desire to do.
Dream Networks — if you are willing to invest the time and effort and care — enable the most monumental of your hopes and goals to come true. They are a boon to your existence because they make it possible to work on things you care about with people you care about. What could be better, or for that matter, more fun?!
Kelly Hoey, I repeat, did not write a book about networking. She wrote a revolutionary guide to getting the things done that matter to you in conjunction with the people who matter to you. — Tom Peters