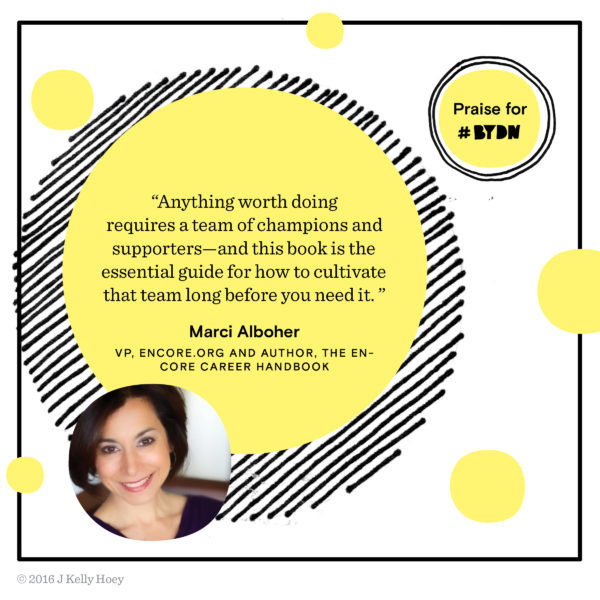 This is the sixth in a series of mentorship stories I'm sharing this year. Mentors in my network who have helped me. And not only am I sharing takeaways that hopefully will be useful in your endeavors, as these mentors are also authors, I'm randomly giving away copies of their book (so read on!).
From My Build Your Dream Network: VP of Encore.org, Marci Alboher.
Marci Alboher has the best Twitter handle: @heymarci. I mention that only because her handle aligns with her incredibly positive, high-energy outlook on life. The twitter handles makes me smile and so does Marci.
Now, Marci and I did NOT meet on Twitter.
We met over a work dinner, in our past lives, when we had different careers and different lives. Marci may have been contemplating a writing career and her first book (One Person/Multiple Careers: A New Model for Work/Life Success), I may or may not have still been practicing law and mulling a career change into law firm management. In many ways what was going on then, is irrelevant. Here is what matters: we've both made many transitions (careers, husbands) and managed to stay connected.
And what is especially nice for me is Marci has always been a step ahead — seeing her navigate challenges and succeed, has given me encouragement, to not give up hope, to remain optimistic, to keep smiling — and to stay organized. Marci is very enviously well organized. She's also a lift while climbing type. Continually helping others — with advice, guidance, connections — reach their ambitious career destinations.
Marci hosted my FIRST book launch party, carefully assembling a guest list of friends, influencers and just good to know people. She's the friend who extends invitations with explanations of why I should attend (no second guessing or time wasting) and immediately makes intros when I arrive. Again, I marvel at her efficiency, and generosity. I'm thankful our ex-husbands worked together and had the good sense to plan a dinner with "the wives".
NOW FOR THE GIVEAWAY!
Ready to participate in what I'm referring to as the #mynetworktoyou #BYDN giveaway?

I will personally be sending to one randomly selected winner a copy of Marci's book THE ENCORE CAREER HANDBOOK plus a copy of BUILD YOUR DREAM NETWORK.
How can you get your hands on this #mynetworktoyou #BYDN giveaway?
We're all having or imagining successive careers. So what's your dream encore or next career? If you could do ANYTHING else with your working hours what would it be? Or as I say in my book, what is your BHAG?
Respond to this Medium post with your answer (or contact me via my website or better yet hit me up on Twitter @jkhoey or Instagram @jkellyhoey if you prefer). If you share your answer on social media, be sure to use the hashtags #BYDN #mynetworktoyou.
Can't wait for your responses.
Cheers,
K.
p.s. Next up from my #BYDN mentor network…New York Times Bestselling Author, Gretchen Rubin.