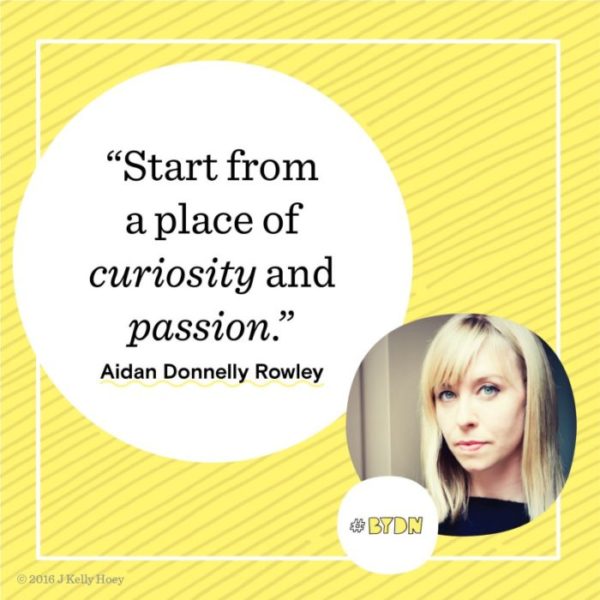 This is the third in a series of mentorship stories I'm sharing this year. Mentors in my network who have helped me. And not only am I sharing takeaways that hopefully will be useful in your endeavors, as these mentors are also authors, I'm randomly giving away copies of their book (so read on!).
From My Build Your Dream Network: Novelist, Aidan Donnelley-Rowley
Aidan and I were introduced by a mutual friend, who lives in Vancouver, British Columbia, Canada. I remember the email vividly. It simply stated "you two gals from opposite sides of the park should know each other". I was still living on the Upper East Side at the time, Aidan is a resident of the Upper West Side. We did what we were told (the mutual friend, Danielle LaPorte is rather persuasive and typically rather accurate in her assessment of situations). Aidan was blogging and writing her first novel (Life After Yes) at the time. I recall I was still wandering in the career wilderness post-law firm management roles, after my year as president of 85 Broads and not yet in the startup world. Aidan and I bonded over lunch and a discussion ranging from our first careers (both lawyers) to books and bringing together people who share a common interest (Happier Hours was a glimmer of an idea at the time).
Fast forward, Aidan is one of the first people I turned to when I decided that I too wanted to be a lawyer-turned-writer. I wanted to understand her writing process (yes, disciplined A-types need to know how and when to get things done). How and when to write (Aidan juggles writing along with being a full-time mom). When I hit writer's block in the Fall of 2015, an evening at Aidan's home for Happier Hours cleared it right up. How to write a book: two hours a day.
Blocking time and focusing on one thing, and one thing only is the way to effectively get sh#t done. It was enlightening to someone whose productivity used to be judged by the number of hours packed into one day (ah, the billable hour) to instead start to pay attention to the how and when of producing quality work. Two hours a day versus 18-hour days. Understanding this is why I guard my mornings and leave blank space on my calendar (in case creativity hits).
Aidan has been an Instagram inspiration (I love how she uses the platform to microblog). Through her publicist I found my publicist, Brianne Halverson, Orange PRM. I'm also incredibly grateful that Build Your Dream Network was the first "business" book Aidan included as a Happier Hours featured book. If you've already read Build Your Dream Network then you know that Aidan is one of the featured case studies, sharing how she built a community around a shared passion (novels).
NOW FOR THE GIVEAWAY!
Ready to participate in what I'm referring to as the #mynetworktoyou #BYDN giveaway?
I will personally be sending to one randomly selected winner Aidan's novels LIFE AFTER YES and THE RAMBLERS together with a copy of BUILD YOUR DREAM NETWORK.
How can you get your hands on this #mynetworktoyou #BYDN giveaway?

Tell me who you have connected with because of a shared interest or passion project. And yes, I want to know what the interest or project was too! Book club? Dance class? Coding Club? Volunteering? A meetup?
Respond to this Medium post with your answer (or contact me via my website or hit me up on Twitter @jkhoey or Instagram @jkellyhoey if you prefer). If you share your answer on social media, be sure to tag the person who helped you and use the hashtags #BYDN #mynetworktoyou.
Can't wait for your responses.
Cheers,
K.
p.s. Next up from my #BYDN mentor network — author, speaker and founder, Good Life Project, Jonathan Fields.
p.p.s. Have you signed up for my first online course? Build Your Network and a Dream Career with Creative Live.

Yes, I frequently share my insights IRL — not just in on Medium or in a newsletter or on Linkedin or Twitter. I am represented by Penguin Random House Speakers Bureau. If you're interested in having me speak at your event contact Erin Simpson via email: esimpson@penguinrandomhouse.com