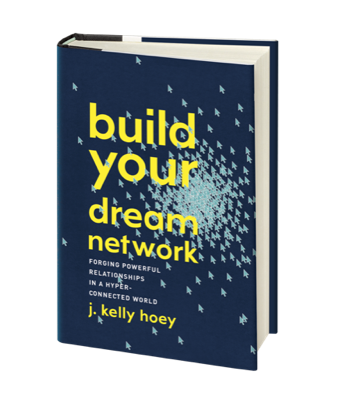 I'm so determined to change how YOU think about networking, that I'm giving you the chance to get a free keynote for your company, event or organization when you order copies of my book in bulk.
All you need to do to receive a free keynote (+ audience Q&A) is place a bulk order for 1000+ copies of Build Your Dream Network: Forging Powerful Relationships In A Hyper-Connected World (hardcover or paperback edition, your choice). Once your order is placed, send me the receipt/order confirmation at admin@jkellyhoey.co to book your date.
Easy peasy right?
Order books, get a BYDN keynote, change old networking habits and mindsets (ok, the last part is hard as re-branding what people think of a schmoozy activity is not easy peasy, until they hear me speak and a lightbulb goes off that the old way of networking sort of sucks and they don't have to continue networking in such an outdated, ridiculous way).
I'm so committed to changing the way people think about networking that if you order 75+ copies of Build Your Dream Network (hardcover or paperback editions) I'll jump on a 45 minute networking strategy session with you to coach you through your network-building approach, make suggestions how to audit your networking online + off, along with providing my usual actionable, practical tips on how to solve any lingering networking quandaries you have after reading Build Your Dream Network.
Order your copies. Show me you have receipts! And contact me at admin@jkellyhoey.co to book your keynote or network-building strategy session.
Yes, there's some fine print beyond the minimum number of books to order (lest we forget, I was an attorney in my first career):
Books must be ordered in non-refundable bulk from a seller such as Porchlight Books.
Orders must be placed by June 1, 2021.
Keynote(s) and/or Networking Strategy Session (depending on the size of your order) must be scheduled before December 1, 2021.