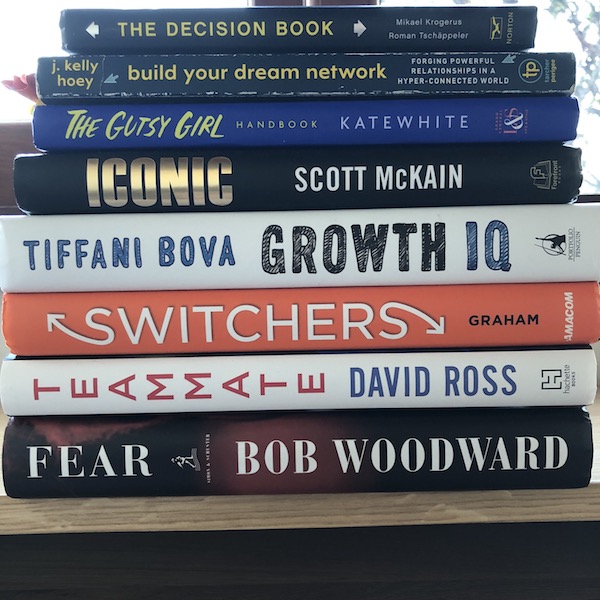 I recently flipped the mic on Business Builders Show host Marty Wolff. He had to sit in the interviewee's chair (for once) on his own show. Why? Marty is a voracious reader, and since its inception, the Business Builders Show podcast has been a resource for busy entrepreneurs and executives on not only what to read, but the why it is worth their time to do so. This is no B.S. list as Marty exclaims part way through our conversation! And yes, you'll have to listen to almost the end of our back & forth to unearth the story behind the title of this post.
Find the podcast here and some highlights with links to the books mentioned below.
@ 2:30 Marty shares why Man's Search For Meaning by Viktor E. Frankl has stood the test of time.
@ 5:05 I discover Marty's Five Must Reads. Spoiler Alert! Those books are: New Power: How Power Works in Our Hyperconnected World–and How to Make It Work for You; Secret #40: The Power Of Beliefs In Business; So Good They Can't Ignore You: Why Skills Trump Passion in the Quest for Work You Love; and, Build Your Dream Network: Forging Powerful Relationships in a Hyper-Connected World.
@ 10:30 The book with a surprise business lesson? For Marty, it is Influence: Science and Practice.
@ 12:20 The ONE book all business leaders should read (according to Marty): Create Distinction: What to Do When "Great" Isn't Good Enough to Grow Your Business.
@ 13:19 Books on Marty's nightstand include: Zucked: Waking Up to the Facebook Catastrophe; and Tyrant: Shakespeare on Politics.
And no, Marty couldn't stand it any longer, so @ 15:09 he reverts to being the interviewer….
The books that have stood the test of time for me? How to Win Friends & Influence People plus just about anything written by Tom Peters.
My "must" read and surprising business lessons book are one and the same: On Writing by Stephen King.
IMHO the one book every business leader should read (drum roll) is: Personal History by Katharine Graham.
A selection of the books on my reading list include: This Is Marketing: You Can't Be Seen Until You Learn to See; The Dumb Things Smart People Do with Their Money: Thirteen Ways to Right Your Financial Wrongs; a number of Michael Ondaatje novels and Zadie Smith's Feel Free.
@ 26:40 we close out the conversation with a discussion of THE book we're seeking. For me, it is on the scarcity mindset. For Marty, it's sales (not quick tactics hocus pocus sales advice but sales as network building).