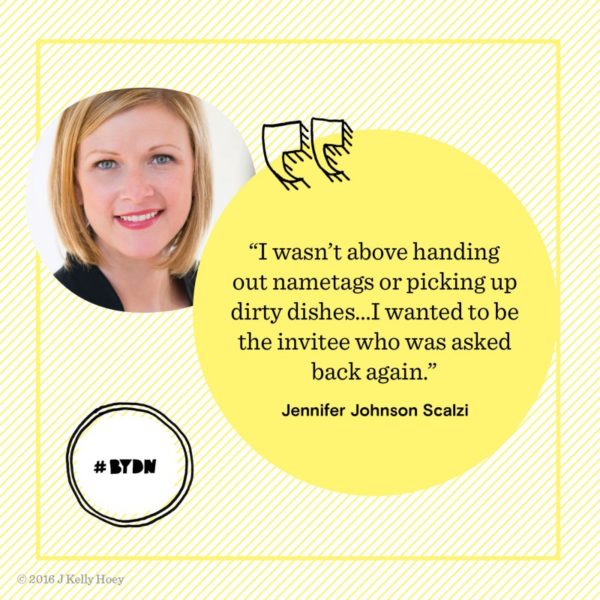 This reader success story was a WOW! Oh, WOW! one for me. This reader clearly had all the tools for achieving her career dreams, and I'm beyond thrilled that Build Your Dream Network provided her with some additional momentum (and encouragement) to go after an expanded role, in a new city.
Some background as to why I picked up the paperback edition of Build Your Dream Network and how shortly after completing it, it helped me make an impact in my career path.
The last week of January was a big career week for me. I was heading to HQ to meet with select VPs and pursue a lateral move within the company. I read Build Your Dream Network in one day and flagged 22 sections.
The takeaways I applied immediately were tips on being purposeful in my networking activities per executive recruiter, Jennifer Johnson Scalzi (Expert Insight: Be Purposeful page 26), making peer and community connections and asking for time from higher-ups per venture capitalist and First Round Capital partner, Rob Hayes (Expert Insights: Success Isn't Just about the Idea — It's about Investing Time in the Network page 130), and your own advice on working the online room.
I wrote up an article on LinkedIn to have something to share with the executives I was scheduled to meet with. The LinkedIn article also led me to find a sales opportunity with a global account and I was able to leverage this success story in my later conversations. I have to confess, several of the VPs were curious to know how I was able to tap into so many C-level executives. I shared my value-add approach of posting content, sharing insights, asking probing questions and then following up with additional product information (such as white papers).
Since January, while I've been working diligently to meet new hires across the company and to raise my profile in the hopes of securing a lateral transfer, the company's leadership has been working up something bigger: I received a promotion of two pay grades with a relocation bonus!
I've already hit the ground running and established relationships in the new office. The career success I've experienced since January has pushed me to take greater initiative and to lead conversations instead of waiting for an opportunity to present itself. My confidence is soaring and I feel well-equipped to succeed in my new role.
I have to say thanks so much for the insights in your book. It's really helped me take control of my career in ways that I wouldn't have thought I could.
Have you checked out my #BYDN #mynetworktoyou giveaways?
Sign up for my newsletter to learn first who mentored me (and what book I'm personally giving away). And heck yes, I'm looking forward to receiving your mentorship stories.
IEEE. PGA. True North. Where in the world is #BYDN showing up next?